Why celebrate your next birthday at Barcode Saturdays?
Birthdays come once in a year and just like every other annual occasion, they should be celebrated with close friends and family. And while it's great to celebrate a bash with a homely feeling, as an adult, you'd want to take the party to the next level with unhinged celebrations and something out of the ordinary.
So if you're looking to add a little extra to your birthday sauce this year, we've got you covered. Hitting a luxurious nightclub like Barcode Saturdays on your next name day would be a great way to break away from the tradition for once and enjoy an unforgettable gig with your gang.
Celebrate your Birthday at the Hottest Toronto Nightclub
If you're looking for an establishment to host your next birthday bash in style, look no further than Barcode Saturdays. Make your celebrations grand and immerse in an unforgettable experience with VIP packages and bottle booth services to make your night special. We host birthday parties that are enjoyed by all.
Regardless of the size of your group or your budget, you can enjoy a memorable affair with your close friends at Barcode Saturdays. Book an affordable group package or take it a notch higher with our VIP bottle booths, there's no dearth of options when you choose to party at the hottest nightclub in Toronto. We're a luxurious nightclub situated at the NEST Toronto and are known to provide a royal clubbing experience to all who visit us on a Saturday night.
Reasons to Host your Birthday Party at Barcode Saturdays
There's no better establishment than Barcode Saturdays to spend your birthdays with friends and family. We welcome your gang to take on the night with amazing drinks and foot-tapping music. When you choose Barcode Saturdays for your personal celebrations, you choose the hottest party destination in Toronto for your special day. Hosting your birthday party at our nightclub means a stamp on your memory list. Contact us beforehand and leave nothing to chance in planning the most epic birthday party ever.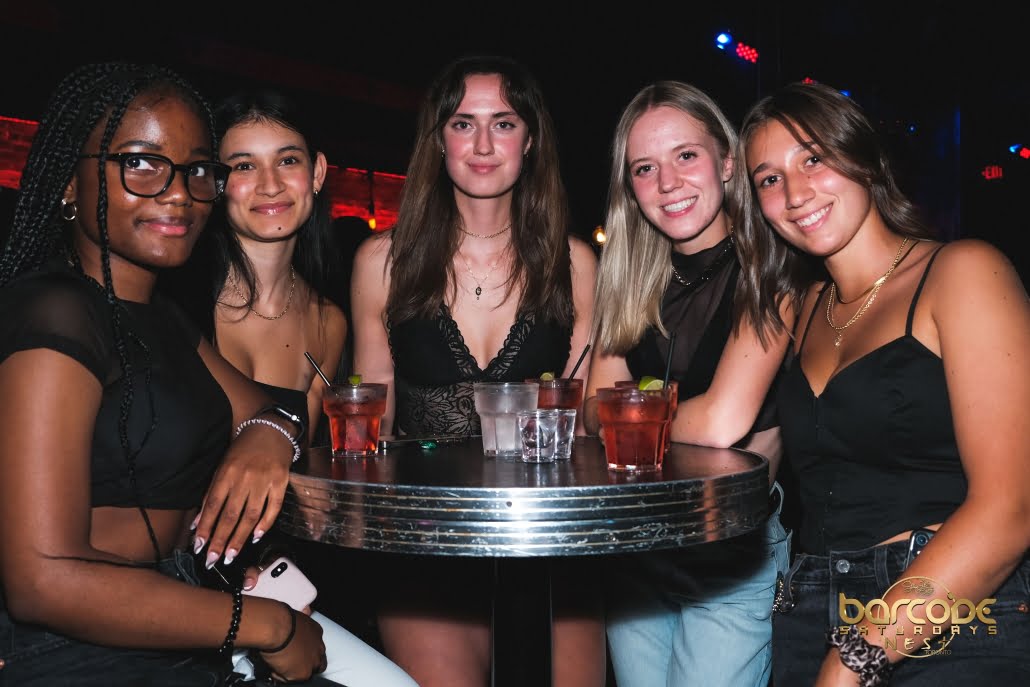 Our management team can take care of every minute detail with utmost professional and promptness. Be it the music of your choice or your favorite drinks, leave it all to Barcode Saturdays. We're the perfect fixture for your birthday party as we host the most epic Saturday night parties with amazing bottle services and VIP packages for you.
If you're still unsure, here are a few compelling reasons to host your special occasions with us:
Free Entry and Drinks for Ladies
Barcode Saturdays offers free entry and a complimentary bottle of champagne for ladies when they sign-up on our guestlist before 11:30 PM.
Low Cover Charges
It's not just the ladies who have the reason to go wild at our club. We offer entry to gents as low as $15 when they sign-up on our guestlist before 11:30 PM. Beyond that, they can get access to our club at just $20.
Friendly and Professional Staff
We have helpful and friendly staff who work together to ensure that your parties are a hit from start to finish. Whether you want to prop up to a certain theme, need a customized birthday cake, or want the DJ to make an announcement for the birthday boy/girl, our staff can take care of it all.
Top Party Anthems
At Barcode Saturdays, we play the latest and hottest tracks that hit the charts. From Hip-Hop and R&B to Trap, Reggae, and the latest Top 40 hits, we ensure that not a soul in our club doesn't groove or move to the tunes of our DJs.
Flexible Packages
Barcode Saturdays has various birthday packages to elevate your occasion through the roof. Whether your guest list includes half-a-dozen people or more than 10, we'll customize a package that suits your needs.
We Create Exceptional Clubbing Experiences
We can take care of every requirement of yours, no matter how unique. We assure you that each and every detail of your celebration will be personalized as per the needs of you and your guests. Your birthday package would depend on a few factors such as:
Date of the event;
Number of guests attending the event; and
Your preferred packages.
Our birthday celebration package starts at $200 only. If you have a guest list of more than 10 people, contact us to make special reservations and discuss pricing details.
Make unforgettable memories with an epic birthday celebration at Barcode Saturdays. We look forward to hosting you and your gang with unmatched vibes and spirit at Barcode Saturdays.
Reserve your private bottle booth or sign-up on the guestlist with your crew and elevate your birthday bash to an epic level.
Check out our blogs for more insights and trends on Toronto's nightlife and clubbing culture.