Best Bar in Toronto For the Perfect First Date
Dating a crush or a love interest for the first time is something everyone looks forward to. When you go ahead and meet in person, you'd want to know the other person better in a comfortable and casual ambiance. There's always that hint of nervousness inside all of us, and so the venue of your date takes center stage in calming the nerves.
You don't want to be shouting to hear what they have to say, but at the same time, there should be a casual vibe in the place so that the occasional silence doesn't become awkward.
Of course, being a bar, you're quite likely to be spoilt for choice when it comes to drinks, and they can surely calm the nerves. But is it enough?
The answer is no, it's not.
The service, interiors, ambiance, music, range of liquor, and quality of the bar, all add up to make a nightclub truly worthy of a first date.
You can tick all of the boxes above when you choose Barcode Saturdays for the first date. From a comprehensive range of drinks to an exclusive private booth, you can rest assured of having a good time together and creating a great first impression.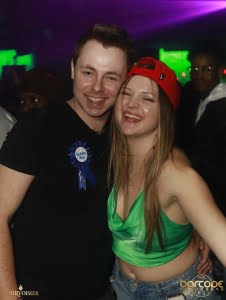 We're the best bar in Toronto for your first-time dates because:
Those Lovely, Lavish Vibes
Barcode Saturdays is a lavish nightclub with royal interiors and premium ambiance that compliments an occasion as riveting as a first date.
A Personal Space for Magical Conversations
Looking to head somewhere quiet where you can hold great conversations and know the person better? Reserve our VIP bottle booths for a personalized experience on your first date. Treat her with premium drinks and enjoy a personal waiter to take care of all your needs.
Catch a Glimpse of Stars
What's better than being in the same room as your favorite celebrities? The answer is; being with your date.
At Barcode Saturdays, we're frequented by renowned personalities from all over the country. Check out our celebrity guest list and surprise your date with a glimpse of her favorite celebrity at Barcode Saturdays.
Loading….. Super Surprises for you
At Barcode Saturdays, fantastic offers, surprises, and packages await you and your date. Contact us today and let us know your preferences and we'll organize a thrilling surprise that creates the cutest first impression.
Taste Royalty at our Bar
Our bar is primed with premium drinks and champagnes that add sizzle to any occasion. Start the celebrations with champagne, go on a wine-tasting spree, or get tangy with awesome cocktails when you head to Barcode Saturdays on your first date.