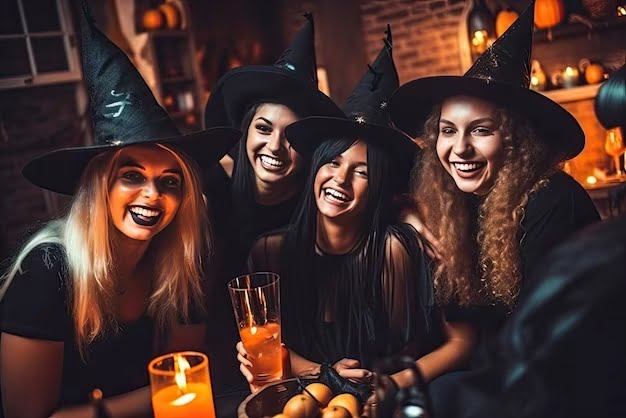 What Time Should A Halloween Party Start?
Halloween is just around the corner, and the question on everyone's mind is: what time should a Halloween party start? A successful & memorable Halloween party requires more than simply selecting a random day & hoping for the best. Industry aspects must be considered.
Unraveling The Magic Of Halloween In Toronto's Nightlife
Nightlife in Toronto is unmatched, & Halloween adds to the enchantment. Partygoers dress in their most imaginative & terrifying costumes to dance the night away, energizing the city. To grasp Toronto's Halloween celebrations, you must see it for yourself.
Toronto Halloween parties are magical from the start. Every nook is decorated with spiderwebs, pumpkins, & ghosts. DJs play scary tunes that keep the dance floor crowded till dawn. The costumes are amazing, with revelers going all out to dazzle & terrify.
Halloween in Toronto is special because of the community. Everyone is coming to have fun & unleash their inner ghoul. Strangers become buddies & inhibitions disappear on this night. People from diverse backgrounds unite together to enjoy the spookiest night of the year, creating a sense of community.
Toronto's nightlife sector celebrates Halloween as a time to relax, forget about life, & enjoy the moment. The night is full of laughing, dancing, & lifelong memories. Visit Toronto on Halloween night to experience its nightlife enchantment. You won't forget this unique experience.
Key Considerations For Timing Your Halloween Party
Time is crucial for a successful Halloween celebration. To make your Halloween party a success, consider these time factors:
Day of the week: Pick a day most guests can attend. Weekends are perfect for family-friendly parties. Fridays & Saturdays are great for adult-only parties since guests may enjoy the night without worrying about work.
Duration: Choose your party's length. For family-friendly events, 2-3 hours is often suggested. Adult-only events can go until dawn, allowing for dancing & mingling.
Theme & atmosphere: Consider the concept & mood you desire. A twilight start time creates a creepy, mysterious atmosphere. A lighter, more fun mood may need an afternoon start time.
Other events: Check the calendar for local Halloween competitions. To maximize attendance, avoid arranging your party around other popular events.
Guest demographics: Consider your guests' demographics. Early birds or night owls? Choose a beginning time that works for everyone based on their interests & lives.
You can schedule your Halloween party perfectly & guarantee your guests have a spooktacular time by considering these crucial criteria.
Ideal Starting Time For Different Types Of Halloween Parties
Picking the ideal starting time for your Halloween party can make or break the event. The hour you pick sets the tone for the event & can considerably affect party attendance & success. What time should various Halloween parties start? Let's break it down.
A 2 or 3 p.m. start time is ideal for family-friendly Halloween events. This lets kids & families participate without interrupting sleep. It likewise provides plenty of daylight for pumpkin carving & costume competitions. The mood & energy change during adult-only gatherings.
This situation warrants a later start time of 8 or 9 PM. This allows guests time to complete dinner, dress up, & enjoy Halloween. Starting later in the evening builds anticipation & excitement throughout the night. Having a masquerade ball or themed dinner party start at 10 or 11 p.m. can lend glamor & exclusivity to your Halloween event.
Your guests may visit other Halloween parties or events before yours, building anticipation.  The best Halloween party start time depends on the event & guests. Consider their schedules, tastes, & desired atmosphere. Your Halloween party will start well if you choose the beginning time properly.
Balance Party Time With Toronto Nightclub Hours
To provide your guests with a great Halloween party, you must balance party time with Toronto's nightclub hours. Toronto's vibrant nightlife scene comes alive on Halloween night, & comprehending the operating hours of the city's clubs can assist you in maximizing the party atmosphere.
Consider when clubs close & how long guests take to go from one place to another. By carefully scheduling your party & considering operation hours, you can let your guests enjoy both your event & Toronto's lively nightlife.
Maximizing Halloween Vibes With Decorations & Costumes
Halloween party décor & costumes can enhance or break the mood. Halloween decorations & costumes can elevate your celebration & immerse your guests. Decorating comes first. To create a frightening, evocative environment, decorate heavily.
Make your room a haunted mansion with cobwebs, skeletons, & scary lighting. Jack-o'-lanterns & candles provide Halloween charm. Scary items & decorations should be carefully placed around the party area to provide mystery & surprise.
The more intricate your décor, the more your guests will feel transported. Moving on to costumes. Encourage your guests to be creative with their Halloween costumes. Encourage them to totally commit to their persona, whether they're creepy, seductive, hilarious, or controversial.
Offer incentives for the best costume in multiple categories to make guests compete & bring their A-game. Costumes aren't just for trick-or-treating; they're a crucial aspect of the Halloween experience & can truly make your party stand out.
Making Toronto Halloween Night Out Memorable
To make your Toronto Halloween night out memorable, keep these things in mind. Planning comes first. Many events & celebrations will take place on Halloween throughout the city. Determine the events you want to attend & buy tickets in advance.
Dress to impress. Take time to create a unique Halloween costume. Be creepy, seductive, or hilarious with your Halloween costume & generate a discussion. Transportation is also crucial. Toronto can be crowded on Halloween night, making parking difficult.
Take public transit or ride-sharing to prevent inconvenience. Plan your route & allow time for traffic if you drive. Attend your venue expecting throngs. Popular Toronto nightlife locations can fill up on Halloween. Expect line-waiting & patience.
Keep your morale up despite the crowds. Celebrate the night & enjoy your time with friends & partygoers. Finally, document the recollections. To capture the night's excitement, take plenty of photographs & videos.
These memories will remind you of your spectacular Toronto Halloween night out forever. Toronto Halloween nights can be memorable with these insights. Take advantage of the city's nightlife & enjoy this unique night.
Navigating Crowds & Queues On Halloween Night
Halloween night crowds & queues can be difficult, but with the appropriate mentality & preparation, you can enjoy it. Expect large queues at major locations & be patient.
Spend time talking to other partygoers & enjoying the night. If lines are too long, try other local locations or less-crowded events. Remember to relax & enjoy Toronto's Halloween night vibe.
Wrapping Up!
In Toronto's lively nightlife scene, Halloween is unique. The city comes alive with electrifying energy as partygoers immerse themselves in a world of whimsy & wonder. Halloween in Toronto is unforgettable, with its extravagant decorations, terrifying costumes, & catchy music.
Timing your Halloween party depends on the occasion & guests' preferences. Matching party timing with Toronto's nightclub hours can likewise enhance the experience. You'll have an outstanding Halloween party by maximizing Halloween vibes with décor & costumes, assuring a great night out!