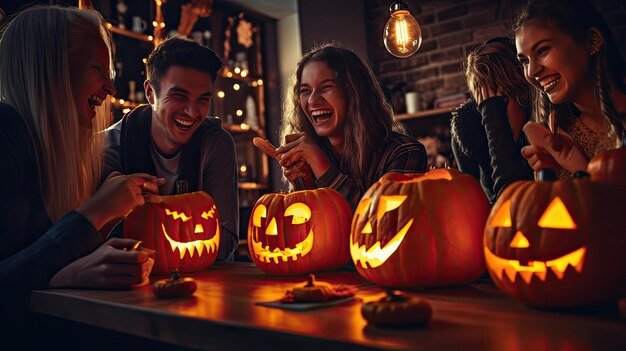 How Do You Make A Halloween Party Memorable?
Are you ready to make this Halloween celebration memorable? With industry factors constantly evolving, it's crucial to stay ahead of the game & bring something new as well as exciting to the table. So, how do you make a Halloween party truly unforgettable? Keep reading to find out.
Toronto's Nightlife & Clubbing Culture
Toronto's nightlife & nightclub scene is known for its vitality & variety. The city has something for everyone on a night out, from underground dance clubs to stylish rooftop pubs. Toronto has become a worldwide party hub with a vibrant music culture & a steady stream of international DJs & performers.
The city's nightlife is known for its diverse music, chic venues, & energetic partygoers who like to dance. Toronto's unique nightclub culture creates spectacular Halloween parties.
Key Elements For An Unforgettable Halloween Party
Ambiance: A memorable Halloween party requires the correct ambiance. Choose décor, lighting, & music that match your theme, whether it's a haunted home or a masquerade ball. Create a magical atmosphere using candles, cobwebs, & fog machines. Use colorful lights & strobes to build suspense. Play haunting melodies or lively dance music to build the mood for a joyful night.
Creative Costumes: Let your visitors become creative with their costumes. Unique & inventive are best! Host a costume contest with attractive prizes to push attendees to work harder. Encourage children to make costumes that represent their personality or favorite pop culture references instead of buying them. This will enhance the visual appeal of your party & make it memorable for everyone.
Signature Cocktails: Elevate your Halloween event with unique drinks. Halloween beverages like witches' brews, vampire blood, & zombie potions might inspire you. Add imagination with themed garnishes & bright ingredients. Consider serving alcohol & non-alcoholic drinks to satisfy all attendees. Signature drinks enhance the Halloween party experience & make it stand out.
Engaging Activities: Keep visitors busy all night with engaging activities. Set up a DIY photo booth where visitors can snap unforgettable photos with amusing decorations & backgrounds. Your Halloween activities can include bobbing for apples, mummy wrap races, & pumpkin carving contests. These activities break the ice, create memories, & build visitor camaraderie.
Unexpected Surprises: Add surprises that will amaze your guests to make your Halloween party special. Hire magicians, fire breathers, & acrobats to perform stunning shows all night. Your visitors can explore the party & find hidden chambers or corridors. Unexpected performances, amazing effects, or a big conclusion will make your visitors remember your celebration for years.
Adding A Toronto Twist To Your Halloween Party
Halloween celebration is distinctive to Toronto's dynamic culture. When arranging a Halloween party in the city, embrace the Toronto twist & include parts of the city in your event. Local themes & symbols might give your Halloween celebration a Toronto feel.
Dress like a Toronto celebrity or a cherished Canadian TV character. Your location can be decorated with Toronto attractions like the CN Tower or Distillery District. Local food & drink may likewise make your Halloween celebration distinctive. Why not serve some of Toronto's renowned cuisine at your event?
Poutine, peameal bacon sandwiches, & maple syrup-infused beverages may satisfy your visitors. Showcase Toronto talent at your Halloween party in addition to food & décor. Why not engage local musicians or performers to amuse your guests in Toronto's vibrant arts & entertainment scene?
Live bands & fire dancers are limitless ways to spice up your event. Infusing your Halloween party with Toronto themes, cuisine, & talent can make it special for your guests. Think outside the box & celebrate Toronto at your Halloween party.
The Best Nightclubs For Halloween Parties In Toronto
The venue is crucial to a successful Toronto Halloween party. Luckily, the city has some of the top nightclubs that go all out to create a frightening, thrilling environment. Barcode Saturdays is popular for its celebrity guest list, dance floor & high-tech sound system.
This club throws amazing Halloween parties with themed décor, great DJs, & breathtaking performances. Rebel, a bigger venue with outstanding DJs presenting the greatest electronic music, is also popular. Their Halloween celebrations are usually popular with immersive décor & lively crowds.
EFS offers a more upmarket experience. This rooftop club is perfect for a beautiful Halloween party with its slick design & trendy atmosphere. No matter the nightclub, you can anticipate great music, unique costumes, & a lively crowd eager to dance till dawn.
Creative Halloween Costumes & Party Themes
Prepare to elevate your Halloween party with creative costumes & themes that will make the night memorable. Utilize your imagination while creating costumes. Why not dress as a Toronto landmark instead of a vampire or witch?
Turn into the CN Tower or Honest Ed's sign. These costumes are eye-catching & express your city's pride. Beyond the haunted home, explore other party themes. With a "Toronto Sports Heroes" theme, visitors may dress as their favorite Raptors, Maple Leafs, or Blue Jays players.
Consider hosting a "Toronto Neighborhoods" party with each room representing a city neighborhood. This lets guests feel each room's ambiance as they go around. Your Halloween party can be distinctive & memorable by using creative costumes & themes. Let your creativity go wild & make this Halloween memorable.
Music & Lighting Create A Captivating Atmosphere
Music & lights create the tone for a thrilling Halloween celebration. Parties revolve around music, & the correct playlist can make or ruin the night. Spooky songs will keep the party going & get people dancing. Eerie sound effects & haunting songs may create an exhilarating mood.
Creating an appealing atmosphere requires lighting too. Add mystery & drama to your venue with colorful lights, strobes, & fog machines. Focus lights or disco balls may illuminate particular regions or create a captivating dance floor. The perfect music & lighting can make your Halloween party unforgettable.
Safe Party Practices For Halloween Night In Toronto
Toronto Halloween night safety is paramount. Planning your spectacular party requires safeguards to guarantee everyone's safety & pleasure. Consider these safe party practices:
Plan transportation: Encourage visitors to arrange designated drivers or utilize rideshares to prevent drunk driving.
Limit alcohol: Offer non-alcoholic drinks & encourage responsible drinking.
Clear walkways: Well-lit, obstacle-free paths reduce accidents.
Consider security: Keep the night safe with experienced security.
Emergency preparedness: Keep a first aid kit & inform visitors of emergency exits.
You can have a fun Halloween night while protecting your visitors by following these party rules.
Barcode Saturdays Host An Amazing Halloween Party You Won't Forget
Barcode Saturdays throw Toronto's best Halloween events. This legendary nightclub goes all out to captivate you. From the minute you enter, the ambiance is unique. The club's exquisite design, immersive lighting, & pounding music make for a great night.
The DJs at Barcode Saturdays keep the excitement high & the dance floor busy, so you & your friends will have fun all night. Barcode Saturdays' friendly staff & lively crowd offer a welcoming & inclusive atmosphere where you can relax plus make lasting memories.
This Halloween party at Barcode Saturdays will be unforgettable, whether you're dancing to the newest music or enjoying the stunning visuals. Gather your friends, dress in your finest costume, & dance the night away at one of Toronto's top nightclubs.