2022 is almost done, and the holiday spirit doesn't seem far away. Finding celebration in every detail, as Torontonians are (im)patiently waiting for New Year's Eve in Toronto and the most happening events that ring around our city on 31st December every year.
Toronto is a multicultural city. True to our motto, 'Diversity Our Strength,' the city offers everyone a multitude of spectacles and experiences. It offers a medley of activities and things to do, from the iconic fireworks display at Nathan Phillips square to wild celebrations that take place throughout the city. So whether you're a local here or are planning to make it to Toronto for New Year's Eve, get set for an array of experiences and indulgences to welcome new beginnings in vivid style.
What to Expect in Toronto, Canada, for the New Year's Eve 2023
From the grandeur of the mighty Niagara falls to the mesmerizing cruise on Lake Ontario, you can have your hands full this New Year with a flurry of New Year's Eve 2023 events in Toronto.
Take a city sightseeing tour, enjoy resplendent street events, and welcome new beginnings with scintillating club parties throughout the length and breadth of the city; whatever your New Year's Eve call, you'll find it in the 'City of Queens.'
So get ready to make epic stories that remain cherished memories for life with these fantastic activities and spectacles to be a part of for New Year's Eve 2022-20 23 in Toronto.
Best Places for New Year's Eve Countdown and Toronto Fireworks Party 2023
Looking for family-centric events with indulgences for every member of your family? Let's take a look at some amazing events that'll keep your whole family mesmerized during New Year's Eve:
The list begins with the official celebrations that take place at Nathan Phillips Square, right at the heart of the city. The festive atmosphere includes dazzling fireworks, live music gigs, DJ shows, and skating on an outdoor ice rink next to the square. Needless to say, you won't have a moment to lose as the revelries start at 8:00 PM.
The grand spectacle, however, is the impressive fireworks that shoot up in the sky at midnight, and the air is inebriated with the sounds of New Year wishes.
The Niagara Falls Fireworks
If you've visited Niagara falls before, you'd know the grand spectacle that it offers to everyone. Now imagine the falls illuminated with breathtaking fireworks and lights as the New Year approaches. Simply bewitching.
Whilst with your family, you can also enjoy incredible events, and the Niagara Falls live music concert.
Firework Display in Greater Toronto
You can find similar, family-friendly events everywhere in the city. The Greater Toronto area is known for another fireworks show at Brampton's Garden Square. Put your chef hats on and join the marshmallow roasting competition.
If you're looking for a less crowded option but don't want to miss out on the fireworks, you can also head to Celebrations Square in Mississauga and enjoy live music, New Year's countdown, and early fireworks that begin at 9:00 PM.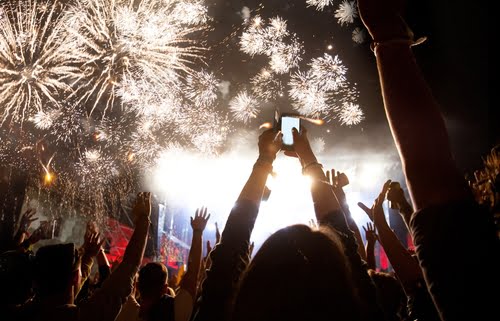 New Year's Eve 2023 Dinners in Toronto
New beginnings are good, made great by some true culinary delights. And Toronto has no dearth of these as well. So if you're set on something more (full)filling this New Year's Eve, here are some great dining experiences that you've surely not had before:
A Dinner Cruise on the Lake
Fireworks aren't the only way to celebrate the beginning of 2023. If you're in to try something unique and magical this time, go for a Gala Dinner Cruise at Toronto Harbor, beginning at 8:30 PM.
The four-hour fiesta will include gastronomic delights and sparkled wine on a large cruise ship. You can also shake a leg at the boat and enjoy spellbinding views of the Toronto skyline decked up with shimmering Christmas lights.
Cityscape Dining at CN Towers
If you and your family prefer a quaint but unique style of celebrations, this one's for you. Toronto's iconic landmark, the CN Towers, welcomes you to indulge in a fabulous New Year's Eve dinner with 360-degree views of the city. Treat your family to world-class cuisines and enjoy the marvelous views of Toronto from atop the city's hallmark.
New Year's Eve 2023 Events in Toronto
The entire globe holds merrymaking events during the holiday season, and Toronto is no different in this regard. So gear up for sensational events and activities to go, Gala, before the clock strikes midnight and 2023 kicks in:
Aurora Family First Night
Looking for something more than fireworks and dinner galas? Then the Aurora Family First Night is the perfect place to be for you this New Year's Eve.
As you head to Aurora in the North of Toronto, you'll start hearing musical chords, witness magical lights adorning the neighborhood, and a gamut of family-friendly events packed with entertainment. You can enjoy a multicultural festival with movies in the park, indigenous story-telling, and other emphatic events here. There are also other virtual activities and live-streaming options.
You have to make a prior reservation to attend the event at Town Park, which is due to be held from 6:00 PM to 9:00 PM.
Bloor Yorkville Holiday Magic
The Bloor Yorkville is a downtown neighborhood that's renowned as a shopping and entertainment hub during the holiday season. It's famous for its festival of lights and music, as you can see the Yorkville Central Park radiating with lights. Enjoy sumptuous food alongside a campfire and celebrate New beginnings with a live music show.
Canada's Wonderland Winter fest
An immersive experience awaits you all at Canada's Wonderland, which transforms into a magical winterscape for a month-long celebration. The fest includes:
Great attractions.
Themed decor.
Shows and events.
Exotic and festive foods.
An artisan market for a wonderful shopping spree.
Last year, the WinterFest included ice skating, a tree-lighting ceremony, a vibrant walk down a colored LED tunnel, cookie decorations, photo ops, and a Yule show covering all the popular holiday songs. If you're heading this way, check the activities you want to participate in. Some of them require a prior online reservation.

New Year's Eve 2023 Parties in Toronto
The fireworks are great to behold, and the dinners are sumptuous delights, but new year's Eve is the perfect setting to jump straight into the action and party like the year is at an end. No, wait!
So without further adieu, here are some of the hottest NYE parties that you surely can't miss on 31st December 2022 in Toronto:
Before the year ends, before the arrival of new beginnings, lies an inescapable clubbing ritual that'll knock you off your socks. Welcome to the annual NYE party at Barcode Saturdays, where the celebrations keep getting sexier, wilder, and more enthralling every year.
Elevate your 31st night with high-octane clubbing at the most luxurious nightclub in Toronto. From the moment you step in until the tantalizing countdown at midnight, you'll find yourself lost in the grandeur of epic DJ remixes, premium food and drinks, and a party that features the most renowned celebrities from Toronto.
Avail of our VIP package that grants access to premium spaces and a complimentary bottle of champagne to bid adieu to 2022 and welcome 2023 with open arms. Make your reservation and head in with your friends for a night of non-stop entertainment and a fiesta that'll take you deep into the night.
2023 is Here, and So Is Our NYE Bash
Toronto is the hub for epic parties, bar crawls, and events around the city. The best part, however, is lined up for you at Barcode Saturdays. Give your festive mood an upgrade and enjoy the holiday season like never before with the NYE 2023 bash at Barcode Saturdays.
Don't miss out on the hottest New Year's Eve party in 2022. Make your reservations today. See you past midnight.