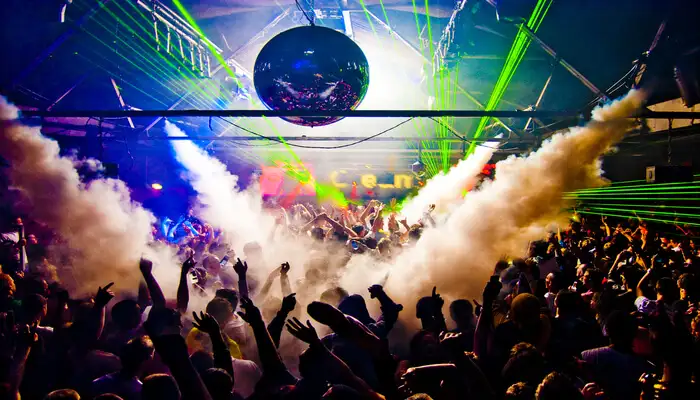 How Much Does Do Nightclubs Cost to Get in?
How wonderful would it be if we all could hit our favorite nightclub spots without sparing a thought about the cover charges? Or to whizz past the line like a boss?
As it so happens, there are ways for you to get around hefty cover charges and long waiting queues. And we'll explain them in detail here.
Almost every neighborhood in Toronto has a bustling nightlife scene. Primed with bars and discotheques, these are the top establishments the locals hit whenever they want to paint the town red. But often, what's lost as a key undernote is that Toronto nightclubs and bars aren't cheap to get into. As the demand for these nightly abodes increase, so do their cover charges.
One good news, though, is that most Toronto nightclubs have a lower cover fee for women than men, and some even offer free entry to the ladies if they meet certain criteria.
On average, the cover charge for men at Toronto nightclubs ranges from $20 to $40, though this number may well increase during holiday weekends and special events. For women, the clubs that do charge entry fee price it between $10-$30.
For those of you who are familiar with the nightlife scene of NYC, Las Vegas, or other party destinations, these prices may not come as a surprise at all. But for many nightlife newbies, these prices may burn a hole in their pocket and lay waste to their weekend plans.
However, fret not! There are ways to avoid paying hefty charges to get into your favorite party station. By signing on to the guestlist, you and your crew cab enjoy the same clubbing privileges at slashed prices. Let's understand how!
Toronto Guestlist Options
One way to reduce or avoid paying cover charges altogether is to sign-up on the guestlist services of a club. Guestlist is an entry service offered by most nightclubs in Toronto that guarantees entry to a limited number of guests who have signed up to attend the club. Simply put, if your name features on the guestlist, you and your gang don't have to pay exorbitant cover charges to get the ball rolling on the night. Plus, no need to stand in that long queue outside the club and wait for your turn! You get express entry if your name is on the guest list.
However, one word of caution about guestlists: they tend to vary depending on the occasion. A regular weekend may feature standard prices, but it'll surely tick upwards for any major events or parties. For instance, a club may have invited an international DJ or some other special performance for the night. As such, the prices are likely to be hiked for the event.
Moreover, holidays such as Halloween and New Year's Eve see a sharp rise in cover charges, even for guestlist entries. In some luxury nightclubs, the cover charges may be hiked up to $50-$100.
Toronto Bottle Services
Guestlists aren't the only way to enter a nightclub without waiting at the door and paying costly cover charges. Another way to get ahead of the herd is by reserving bottle services for the night. Bottle services are premium tables or spaces reserved for guests who want a private celebration with their group. While some clubs have tables reserved for bottle services in prime areas, such as in front of the stage, others have a room dedicated to guests with grand views of everything happening inside.
Bottle services usually come with package options where you can choose the number of water bottles, drinks, and other offerings served to you and your guests.
At this point, let's take a step back and clarify one thing: if you're looking to avoid paying exorbitant cover charges, bottle services are a great option where you and your friends can split the bill among yourselves and enjoy a night of personalized and premium services. But if you're a little tight on the budget, a guestlist may be the best way to gain entry to your favorite establishment, as bottle services definitely aren't cheap.
How to Party for Free at a Toronto Nightclub?
Something very special is in store for you and your besties every weekend in Toronto. If you're a club crawler or a party animal, then Barcode Saturdays is the clubbing experience you deserve.
Located at the lively College Street, we're a premium establishment where opulence describes everything about us. Barcode Saturdays epitomizes Toronto nightlife, from mesmerizing interiors and state-of-the-art sound systems to an expansive drinks menu and party specials.
But that's not all!
We're one of the few clubs in the city that offers free entry to ladies. You read that right!
By signing up on our guestlist, ladies can enjoy free entry to our club before 11:30 am. But wait! There's more from where that's coming from.
Featuring on the guestlist also means that the ladies get a free bottle of champagne on-the-house as soon as they enter our lavish space.
For the fine gentlemen out there, you can get express entry into our nightclub by signing up on the guestlist for a reduced cover charge of $15.
But fret not even if you've missed out on our guestlist. Regular charges at our club are as low as $20 for men and women.
These charges may very well rise without prior notice for special events that include notable guest celebrities.
Regular entry
Men: $20

Women: $20

Guestlist entry
Men: $15

Women: Free

Bottle Services
Silver: $350 (for 2)

Gold: $675 (for 4)

Platinum: $1,000 (for 6)

Diamond: $1250 (for 8)
Gear up for a Special Night in Toronto
If you need any more reasons to join Barcode Saturdays for your weekend party fix, here it is: we're the number one celebrity party ritual in town. This means that catching a glimpse of your favorite celebs is only a weekend away at our luxury nightclub.
Sign-up on our guestlist to join a wild celebrity party ritual or reserve a bottle booth to upgrade your clubbing experience this weekend at Barcode Saturdays.