How Barcode Saturdays is Redefining the Toronto Nightlife
The splendid waterfront of Lake Ontario, exotic experiences, and ceaseless nightlife indulgences have always been the true reflection of Toronto's happening culture. Also known as the 'City of Queens,' Toronto has a vibrant nightlife scene where one can find unique experiences.
Since 2014, the city has got uplifted with a premium clubbing destination. Brought to fruition by Life Media Group, Barcode Saturdays is an opulent nightclub set in the heart of NEST Toronto. We're a state-of-the-art nightclub with world-class sound systems and lighting, a lavish bar, breathtaking interiors, and a premium range of dining and drink options.
Barcode Saturdays are the ultimate party venue in downtown Toronto and a staple clubbing fixture for celebrities and tourists from around the world. We open our doors every Saturday night to host a boisterous crowd for a night of dance, drinks, and then some more. Our special events and annual parties become the talk of the town with electric live gigs by DJs and Hip-Hop artists along with a range of special offerings at our bar.
Location
Barcode Saturdays is a luxurious nightclub that has been redefining the true flavor of Toronto's clubbing experience. We're located conveniently at the heart of the city in NEST Toronto, 423 College Street, with splendid views of the cityscape.

What To Expect At Barcode Saturdays?
Expect next-level clubbing entertainment every weekend at Barcode Saturdays. We're the ultimate party fixture with a sensational lineup of special events and parties that sets the standard for nighttime celebrations.
Features
Barcode Saturdays is loaded with premium features as far as the eyes go. A regal ambient theme welcomes and soothes the eye as you enter our club, while our electrifying dance floor immediately grasps your attention. Feel the beats inebriating your body as you feel the gush of Hip-Hop, R&B, Reggae, Trap, and Latin music numbers weighing down from above. Join a like-minded flock of party animals grooving and moving their bodies to the tune of talented DJs and renowned artists.
Our tantalizing bar will surely do the trick if you're still not excited enough. Find lip-smacking drinks, champagnes, and cocktails that set the mood for the ultimate clubbing experience for you and your crew.
A Spectacular Celebrity Experience
At Barcode Saturdays, we offer you the chance to experience a scintillating party ritual celebrity style. Our VIP bottle booth is a testament to this fact.
With the VIP bottle booth service at Barcode Saturdays, you stand to get a dedicated party space for your gang with accommodation for up to 8 guests. You also get access to our premium range of drinks and house champagnes with your own spectacular view of the club. Additionally, you get your own dedicated service and choice of two sound systems for the grand party experience.
Our bottle booths come in four packages to suit the varying needs of our guests:
1. Silver
The silver package includes two admissions for a private royal affair. This package also guarantees a non-premium bottle and house champagne.
2. Gold
With the gold package, you get up to 4 admissions with three energy drinks and two premium bottles.
3. Platinum
By availing of the platinum package, you can get up to 6 admissions and three premium bottles, along with four energy drinks.
4. Diamond
The grandest of them all, the diamond package includes three premium bottles and two premium champagnes. Host up to 8 guests and enjoy a private affair fit for a memorable night.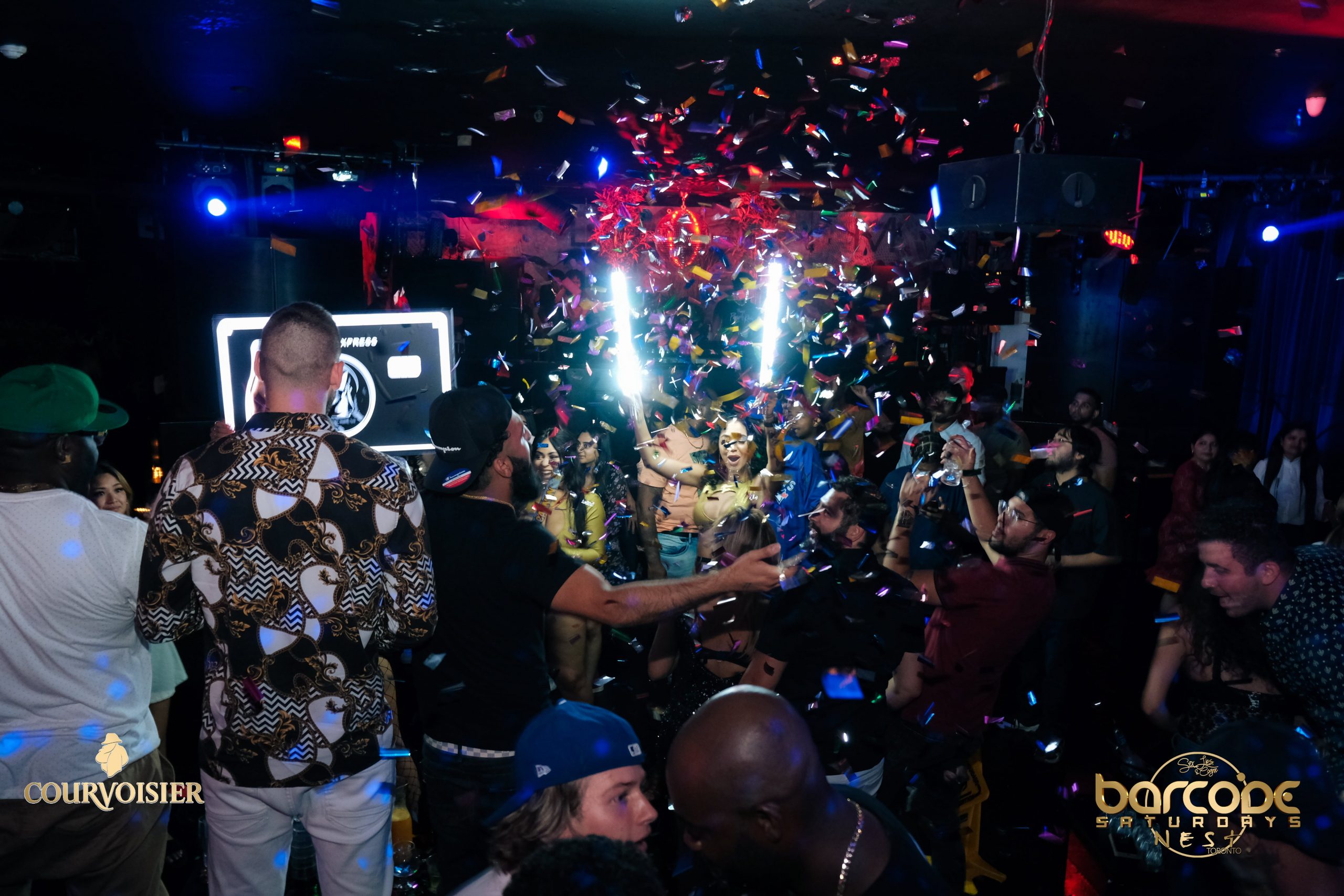 State-of-the-Art Nightclub
Barcode Saturdays is truly a state-of-the-art nightclub in Toronto with a modern suite of features and concepts. From a convenient downtown location, a riveting ambiance, gastronomic delights, and premium champagnes to an inviting dancefloor, and talented DJs, Barcode Saturdays is a complete entertainment fixture.
A Regal Clubbing Experience
Banish the routine and visit Barcode Saturdays for an enthralling Saturday night party. Our bar has fabulous bartenders delivering outstanding service, a riveting atmosphere, lip-smacking drinks, and a delicious selection of snacks and foods.
Our bar setting is meant to bring out the best of the night with fantastic seating and an international selection of liquor brands. This will truly make your party awesome.
As a parting note, we know that every party you plan at Barcode Saturdays is truly gonna be an awesome experience. Get a heightened dose of pleasure, entertainment, and luxury clubbing vibes at Barcode Saturdays. Once you visit us, you're bound to visit us again and again.
Experience the Best of Toronto's Nightlife at Barcode Saturdays
We're an inherent part of the nightlife scene in Toronto, a happening destination where you can unwind after work or socialize with like-minded party animals.
Sign up to our guest list or reserve your own bottle booth to get the party started at Barcode Saturdays. A flurry of nightly delights awaits you at Toronto's number one party ritual.
Visit our blogs for more insights and details on our club and Toronto's vibrant culture.