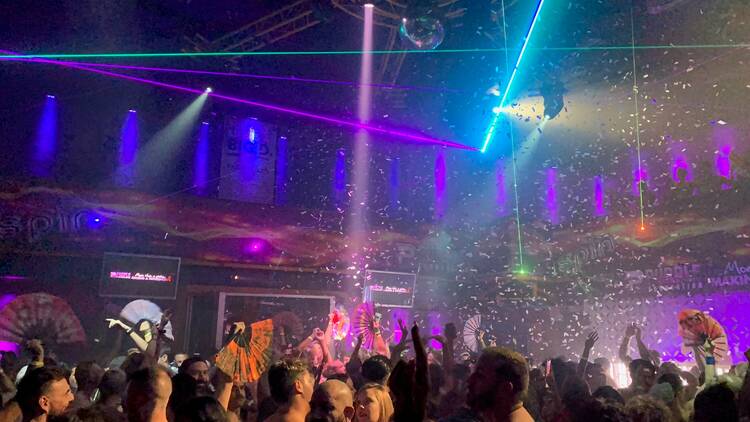 The city of Toronto comes alive after the sun goes down. Numerous pubs, nightclubs, and discotheques become active during evenings and offer a great opportunity for a memorable experience. From sophisticated cocktails to creative breweries across town, from Latin-inspired ambiance to contemporary vibes, Toronto's nightlife scene is as diverse as you can possibly imagine. No matter what you're looking for, you'll find it in Toronto.
Amongst all the nightlife diversity, you can also find clubs that are dedicated to specific music genres to keep the party animals entertained, be it jazz, Hip-Hop, rap, or electronic; you name it.
The most happening of those are the Hip-Hop clubs. You can find some truly amazing party establishments with dedicated Hip-Hop fixtures to keep you grooving all night long.
So if Hip-Hop is your mojo, then here's our compilation of the top 5 Hip-Hop nightclubs in Toronto that'll amaze you and keep you glued to the dancefloor.
Why is hip-hop the Most Preferred Music Genre for Nightclubs?
Hip-Hop has long progressed from being a monotonic music style to one of the most versatile genres in the 21st century. It includes a mix of beatboxing, turntabling, scratching, and even many instrumentals. As such, nightclubs worldwide play Hip-Hop to keep the crowd lively and amp up their spirits so they can party with high-octane energy deep into the night.
So, without further delay, let's take a look at the top Hip-Hop nightclubs in Toronto that'll keep your energy levels on a high and jazz up the nightlife for you.
Every weekend, the city of Toronto gets an upgrade in its nightlife culture, thanks to Barcode Saturdays. Barcode Saturdays is the ultimate Hip-Hop clubbing destination with a touch of luxury that sizzles up your party mood.
Welcome to an opulent clubbing culture with premium drinks and champagnes, delectable food, a royal ambiance, and luxurious VIP bottle booths to elevate your parties on a private note. We're graced by some of the most renowned Hip-Hop artists and DJs who have a single aim: to keep the crowd enthralled on the dancefloor with top tracks and mixes. On top of that, you can also enjoy a host of other features at our nightclub.
Sign-up on the guestlist or reserve a bottle booth to be part of the most sensational clubbing ritual in Toronto.
Address: 423 College St #101, Toronto, ON M5T 1T1, Canada.
Crowd Type: 19-32 years
Music: Hip-Hop, R&B, Reggae, Latin, and Top 40.
Dress Code: Casual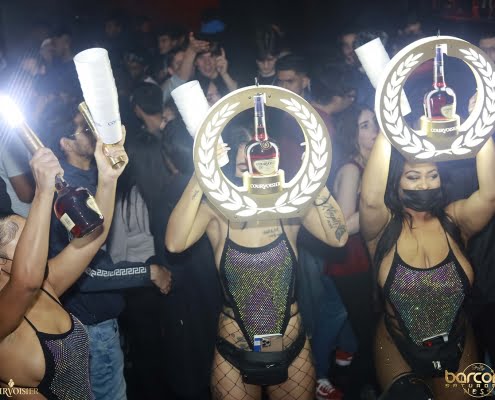 Located in the Entertainment District, the Cake Nightclub in Toronto is another destination that is a dedicated Hip-Hop club. The club has innovative light and sound systems and quality services to help you make the most of the occasion. But above all, the Cake Nightclub has two separate stages that make up a huge space for the dance floor.
The two different levels have their own sound systems. The club also features VIP booths for you to enjoy a private tryst with your crew.
The Cake Bar is known for its amazing bottle services, affordable liquor range, and relaxing atmosphere where everyone has their hands full.
Address: 214 Adelaide St W, Toronto, ON M5H 1W7, Canada.
Crowd Type: 19-25 years
Music: Hip-Hop, Top 40, EDM, Dance
Dress Code: Casual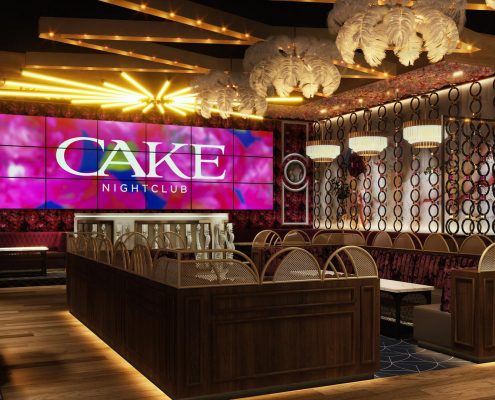 Call her Juliet is a cozy establishment on King's Street that plays Hip-Hop, Trap, and Rap to provide a memorable night to its guests. The club attracts a youthful crowd and becomes lively as it gets dark in the city of Toronto.
Call Her Juliet has a capacity of 400 people who can have a good time at this lower-level dance club with entertaining art and bottle services. The place is perfect if you have a large group looking for a medium-sized nightclub to party at.
Call Her Juliet also has bottle booths where you can have a dedicated space for yourself and your gang.
Address 510 King St W, Toronto, ON M5V 1K4, Canada
Crowd Type: 19-25 years
Music: Hip-Hop, Top 40.
Dress Code: Fashionable Forward Attire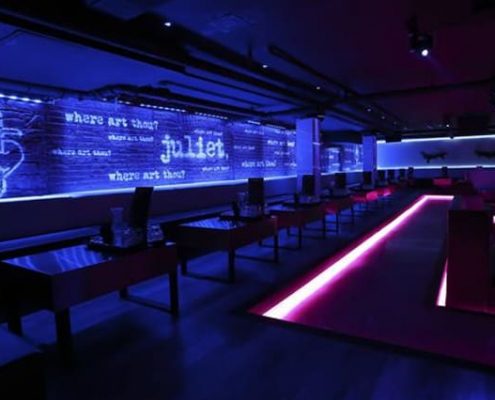 Another prime spot in Toronto's Entertainment District is Bar 244. The unique club at Adelaide Street West is the best nightclub if you're looking to party and get sloshed on a budget. Although the bar is your 'casual drinks' kind of establishment, Bar 244 comes alive with sizzling club-style parties on Thursdays, Fridays, and Saturdays.
Bar244 also has two levels, one with a bar and food where one can socialize and the other where the parties ring on to keep you energized all night long. The upper level is spacious and comfortable, where you can get a little tipsy, while the lower level has an expansive dancefloor to keep you energized till late at night.
Address: 244 Adelaide St W, Toronto, ON M5H 1X6, Canada.
Crowd Type: 19-23 years
Music: Hip-Hop, Top 40, EDM, Dance, Rock.
Dress Code: Casual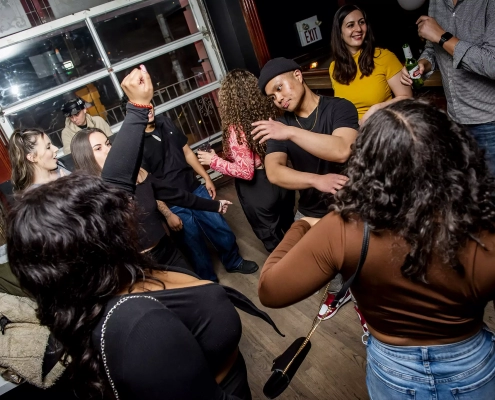 The acronym EFS stands for 'Everything for Sale' and it's a trendy joint that targets young professionals. Also located at Kings West, the nightclub has a unique and appealing ambiance including fashionable lights, concrete floors, leather banquettes, and vibrant pop art, with a total capacity to host up to 600 people. Though it's quite spacious, the overall vibe of the club is comfy and cozy. The nightclub also has Cabana-type seating with a rooftop patio with wooden tables, making it a great option for summertime chilling with your friends.
But beyond all this, EFS plays some enthralling Hip-Hop club music that'll keep you and your friends occupied for the night with great entertainment.
Address: 647 King St W, Toronto, ON M5V 1M5.
Crowd Type: 21-30 years
Music: Hip-Hop, Top 40, House, R&B.
Dress Code: Fashion Forward.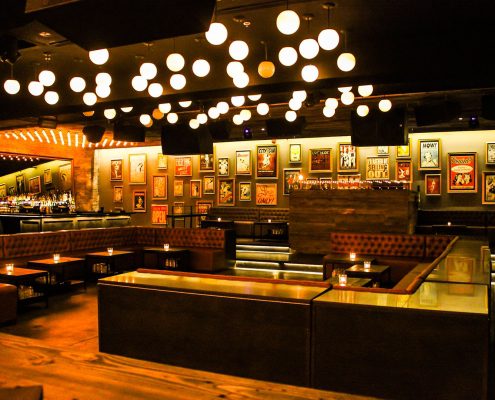 Ready to Boogie on Hip-Hop Numbers?
Hip-Hop has become the most popular
music genre globally for nightlife establishments and the city of Toronto has some of the best clubs and bars dedicated to the genre.
If you're looking for the best place to get down under and forget about everything else, head to Barcode Saturdays for an enthralling night of drinks and dance mania. When Hip-Hop is on your mind, and all you want is to groove to it, Barcode Saturdays is truly the place to be.
Join us for a night of epic revelries and a fantastic clubbing experience to lose yourself on the top Hip-Hop tracks.
We await your presence this Saturday night!
Frequently Asked Questions
Which Toronto nightclubs play Hip-Hop music?
The top 5 Hip-Hop clubs in Toronto include:
1- Barcode Saturdays
2- Cake Nightclub
3- Call Her Juliet
4- Bar 244< 5- EFS Social Club
Which is the best Hip-Hop club in Toronto?
Barcode Saturdays is the best Hip-Hop club in Toronto.
What kind of music is played at Barcode Saturdays?
At Barcode Saturdays, we play Hip-Hop, R&B, Reggae, Latin, and Top 40 hits every Saturday night.
How can I get an entry at a Hip-Hop club in Toronto?
Many Hip-Hop clubs in Toronto, like Barcode Saturdays, offer free ladies' guest list entry. However, we advise reserving our bottle booths for a more premium clubbing experience.
Is Toronto a Hip-Hop city?
Toronto is recognized as the Hip-Hop capital of the world with a raving Hop-Hop scene.
Which Hip-Hop nightclub do celebrities visit in Toronto?
Barcode Saturdays is the number one celebrity nightclub in Toronto.
When can I visit Barcode Saturdays?
We open our doors every Saturday night for the hottest Hip-Hop parties in the city.
Where is Barcode Saturdays located?
Visit us at College Street near Kensington Market. The complete address is 423 College St #101, Toronto, ON M5T 1T1, Canada.