Should I Go To A Nightclub By Myself | Barcode Saturdays
Solo clubbing can be a fascinating adventure that reveals new sides of oneself & generates lasting memories. See You @ Barcode Saturdays!
Should I Go To A Nightclub By Myself?
Thinking about going to a nightclub alone? You're not alone! Toronto's nightlife culture has grown, with more individuals going alone. The industry has grown to provide entertainment for all tastes & increased security to keep everyone safe.
From meeting new people to enjoying amazing music & a dynamic environment, there are many pros & cons of going to a nightclub alone. With the correct mindset & preparation, nightclubbing alone can be great fun!
Toronto Nightclub Party Scene
Toronto's nightclub party scene is robust & meets a variety of tastes. There's something for everyone, from chic Entertainment District venues to subterranean clubs in the city's alleyways.
The atmosphere attracts residents & visitors with EDM & hip-hop music. Toronto's nightclub party scene is unique due to its energetic atmosphere & pulsing sounds.
The Pros & Cons Of Going Alone!
Visits to nightclubs alone may be thrilling & freeing. Like every activity, there are pros & cons before starting. Note these important points:
Independence:- Going alone lets you manage your night. You may decide when to come, which clubs to attend, & when to depart without compromising.
Meeting new people:- Being alone makes you more personable, making it simpler to start discussions & make new friends. This may lead to great friendships & possibilities.
Self-discovery:- Going to a nightclub alone lets you discover new parts of yourself. Exploring new music, dancing, & social situations may increase your self-confidence & broaden your horizons.
Cons
Feeling self-conscious:- When you're alone in a packed nightclub, you may feel self-conscious. You can worry about your appearance, how others see you, or being judged. Remember that most individuals are too concentrated on themselves to notice others.
Safety:- When alone, stay aware of your surroundings & take measures. Watch your things, avoid strangers' beverages, & follow your instincts if anything seems wrong.
Missing out on shared experiences:- Nightclubs may link friends via memories & encounters. You may miss this part of the night & its fellowship alone.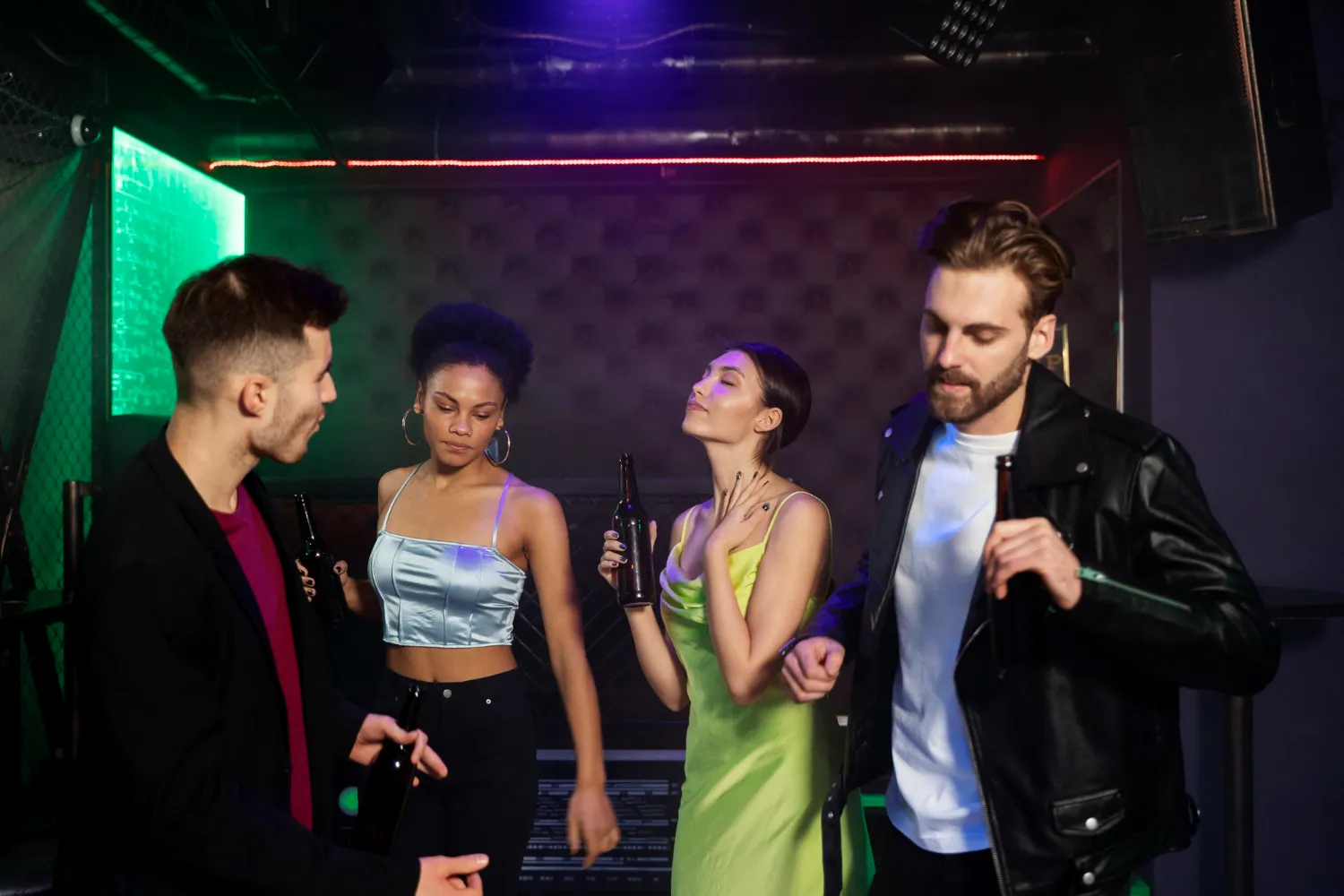 Socializing At A Club Solo
Solo clubbing might be frightening, but with the appropriate mentality & technique, it can be rewarding. In clubs, people are more accessible, so be open & friendly.
Talk to people in the bar or on the dance floor. Also, watch body language & cues; if someone appears indifferent, walk on. Stay confident & enjoy your single nightlife experience- you may make some lasting connections.
Tips For Staying Safe
Visiting a nightclub alone requires many safety precautions. Know your surroundings & trust your instincts first. If anything seems wrong, leave.
Be wary of strangers' drinks & watch your possessions. Plan for safe transportation home, whether that's a trip with a trustworthy buddy or public transit. Staying alert & proactive can guarantee a safe & fun night out.
Drink Responsibly, or Not At All!
Safety & well-being are paramount while visiting a nightclub alone. It's tempting to have a few drinks to relax or improve the experience, but drinking properly is crucial. Pace yourself overnight & know your limitations.
Switch between booze & water to keep hydrated. If drinking is uncomfortable, that's OK too. Going to a nightclub sober lets you enjoy the environment & interact with people more honestly. The option is yours, but safety & fun come first.
Dressing For The Clubbing Experience
For partying, embrace your particular style & be confident in your clothes. Dress in a manner that makes you feel comfortable & ready to have fun, whether you like sleek & seductive or relaxed & modern.
Wear a fashionable dress or well-fitted pants & a top to dance freely. Add flashy jewelry or a stylish purse to complete your ensemble. Remember, partying is about self-expression, so show off your style!
Solo Clubbing: Is It Worth It?
Going alone to clubs might be scary. Aren't nightclubs for nights out with friends or couples? You may be shocked to find that solitary partying is enjoyable. Freedom is a major benefit of nightclubbing alone. You can come & go whenever you want, dance to your heart's delight, & meet new people without having to organize.
This liberty might enable you to enjoy nightclub life on your own terms. Solo nightclub visits may also lead to self-discovery & progress. It requires you to use your social abilities beyond your comfort zone. You'll gain confidence, manage new situations, & engage with diverse individuals.
Solo partying has its drawbacks. Walking into a busy arena alone may be scary & unpleasant. You can overcome these obstacles & have a great time with a good attitude & a few tips.
Avoiding Awkwardness
Going to a nightclub alone might make you nervous about embarrassing times. With a few easy methods, you can navigate a nightclub's social terrain. Remember that everyone is there to have fun. Let go of self-consciousness & enjoy the wonderful mood. Be confident & own the place when you enter.
Notice your surroundings if you're lost or uncertain. Note the club's atmosphere, music, & people. Gaining a sense of the atmosphere lets you settle in. Another approach to prevent discomfort is to utilize the bar. Standing at the bar lets you relax & reorganize & chat with other single clubbers or pleasant bartenders.
Start a conversation or ask for drink suggestions. Dancing also helps break the ice & connect with the club's spirit. Relax on the dance floor & follow the music. People around you may likewise be engrossed in the beat & willing to dance with new partners.
Finally, if everything else fails, take breaks & enjoy yourself. Sit down, drink, & enjoy the atmosphere. Most significantly, have fun & enjoy the event, even if it's beyond your comfort zone.
Bottom Line!
As we reach the end of this insight, consider going to a nightclub alone. It may seem intimidating, but it can be powerful & thrilling. You may meet new people, leave your comfort zone, & experience Toronto's dynamic nightlife scene.
Please emphasize safety, be confident, & enjoy every moment. Solo nightclub visits may be fascinating adventures that reveal new sides of oneself & generate lasting memories. So why not try it? Follow the music & enjoy the night!