Why Are Bachelorette Parties So Expensive | Barcode Saturdays
Our service enhances your party experience. Gather your friends, put on your party clothes, & prepare for an incredible bachelorette party at Barcode Saturdays.
Why Are Bachelorette Parties So Expensive?
Are you actually planning a Toronto bachelorette party? Throwing a lavish party for your dearest friend may become pricey. How come it's so costly though? Let's take a look at the several financial elements that make bachelorette parties in Toronto's nightclubs so pricey.
There are a lot of essential & vital things to think about, from the cost of renting the venue-to the cost of any extra services you may need. We'll go through the fundamentals of throwing a great party & provide some money-saving tips.
Exploring Toronto's Nightlife Scene
Toronto has a thriving nightlife scene with several alternatives for partygoers. From fancy clubs to cozy bars, the city accommodates all tastes.
With DJs blasting the newest singles & trendy audiences dancing, Toronto's nightlife is known for its liveliness. Toronto offers hip-hop, EDM, & live music for everyone. Wear your dancing shoes & prepare to discover this lively city's captivating nighttime scene.
The Popular Nightclub Venues In Toronto
Barcode Saturdays:- This stylish Toronto nightclub is a favorite. Its contemporary design, top bottle service, celebrity guest list, & live DJ performances make this place lively & keep partygoers coming back.
REBEL:- One of Toronto's biggest nightclubs, REBEL is magnificent. REBEL offers an exceptional nightlife experience with various rooms, a large dance floor, & cutting-edge music & lighting. With world-renowned DJs & live music, this club draws a broad & dynamic clientele.
Uniun Nightclub:- This amazing establishment has a futuristic industrial appearance & a lively & electrifying environment. Uniun delivers an unforgettable nightclub experience with its large dance floor, high-tech lighting, & top-notch music. Electronic dance music & hip-hop make this location ideal for bachelorette celebrations.
EFS Toronto:- A chic nightclub in the city's entertainment sector, EFS Toronto attracts a variety of partygoers. The exquisite décor, pleasant terrace, & great DJs make EFS a classy & upmarket venue. This club has VIP bottle service & wealthy patrons.
CODA:- Toronto's nightlife scene's hidden gem CODA offers music lovers an intimate & underground experience. CODA draws music fans with its electronic dance music & underground sounds. Famous DJs & performers perform at this club, which has a cutting-edge sound system.
Consider these popular nightclub locations for a memorable Toronto bachelorette party. Each place has its own ambiance & experiences to suit various tastes.
What Makes Bachelorette Parties More Expensive?
Bachelorette parties are the ultimate celebration for a bride-to-be & her buddies. Now's the time to relax, have fun, & make memories before the big day. It's no secret that bachelorette parties are expensive. But why are these gatherings so expensive?
Toronto bachelorette parties are expensive due to venue leasing expenses. Private parties in popular nightclubs & event locations cost more, particularly on weekends & peak periods. If you're searching for a hip location, these fees might add up fast.
Other services might enhance party costs beyond venue hire. Booking a DJ, bottle service, transportation, & VIP access all cost money. Additional services might make the celebration more memorable, but they can also strain your budget.
Toronto nightclubs are quite popular for bachelorette celebrations. Venues & service providers focus on this sector because of its active nightlife & reputation for outstanding events. High demand & limited supply might make bachelorette party planning more expensive.
The bride-to-be should have a memorable experience, but there are ways to save money without compromising enjoyment. Compare venue fees, book off-peak, & seek alternate entertainment choices to save expenditures. Consider venue or service provider bundle offerings or group discounts.
The Pros & Cons of a Lavish Bachelorette Party
It may be fun & memorable to organize a fancy bachelorette party in Toronto. However, before throwing yourself fully into a lavish party, it's important to weigh the benefits & drawbacks. Here are some crucial & essential considerations:
The bride-to-be & her best buddies can celebrate her impending nuptials in genuine style by throwing an extravagant bachelorette party.
It's a chance to party like a VIP & see the glitzy side of Toronto's nightlife.
Bottle service, early access, & VIP treatment are just a few of the lux party extras that can make your night out that much better.
It is a genuine chance to make a big deal out of the forthcoming marriage of the bride-to-be.
Cons
A more extravagant bachelorette party might easily double or triple the price of a more modest one.
The price tag ultimately may be too much for some partygoers, particularly those who are already struggling to make ends meet.
Some people may be unable to attend because they genuinely lack the financial means to contribute to a lavish celebration.
Time & effort are required to plan & execute a high-end bachelorette party, particularly if there are many elaborate aspects to think about.
The benefits & drawbacks of throwing a big bachelorette celebration should be carefully considered. Before committing to an extravagant event, think about the budget, the bride-to-be's preferences, & the guests' financial capabilities. The ultimate aim is to provide an experience that is memorable & pleasurable for all participants.
Tips On Saving Money While Partying In Toronto
Organizing a Toronto bachelorette party is affordable. Here are some ways to have fun while saving money. Try scheduling your party off-peak. Weekday evenings & Sunday afternoons may be cheaper & more available. Venues & service providers may offer group discounts or package offers.
Research & price comparisons may help you locate the greatest offers. Finally, try hiring a local DJ or holding a themed party at a leased place for entertainment. Give yourself a great Toronto bachelorette party without breaking the bank with these recommendations.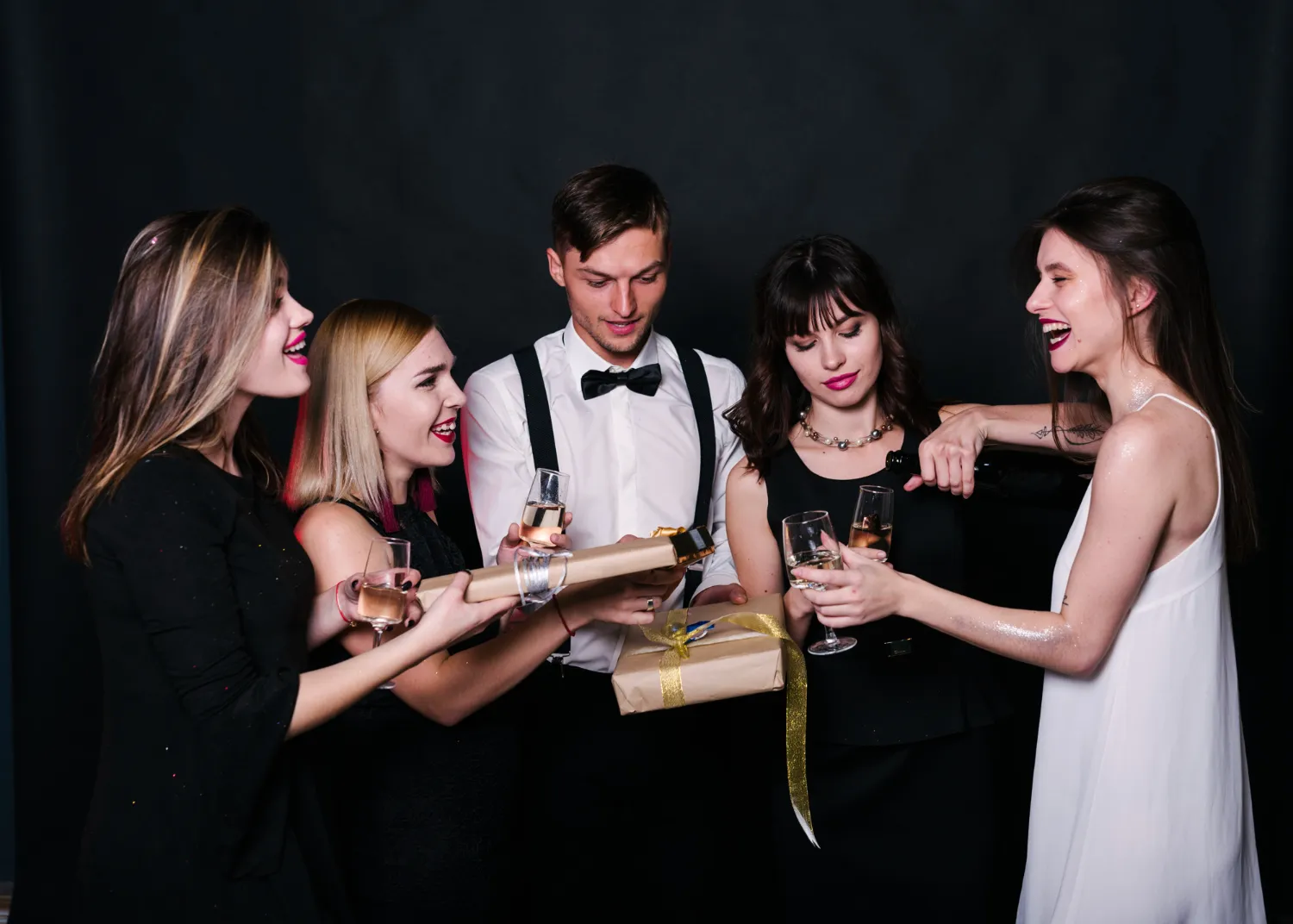 Bottle Service In Toronto's Nightlife
Toronto's nightlife culture has bottle service, which adds elegance & exclusivity to parties. Bottle service gives you & your party a private table with a dedicated waiter for fast, customized service.
This VIP service costs more but includes priority entrance, a large variety of premium spirits, mixers, & personalized drinks. Bachelorette groups enjoy bottle service to celebrate in style & have a wonderful night out in Toronto's dynamic nightclub scene.
Bachelorette Parties At Barcode Saturdays
Barcode Saturdays is a famous Toronto bachelorette party venue. This upmarket nightclub in the city center has a lively atmosphere & great performances. Barcode Saturdays is the ideal spot to dance the night away with your ladies with its top-notch music system, light displays, & DJs.
Bottle service at the club enhances your party experience. Gather your friends, put on your party clothes, & prepare for an incredible bachelorette party at Barcode Saturdays.
Bottom Line!
A bachelorette party in Toronto's nightclubs may be expensive. Many things increase costs, from venue leasing to extra services. Nonetheless, careful research, comparative shopping, & alternative solutions may help you save money & have an outstanding party.
You may give the bride-to-be a memorable experience without breaking the bank by being innovative & resourceful. So grab your buddies, party, & make memories in Toronto's dynamic nightlife scene all while staying within your budget!