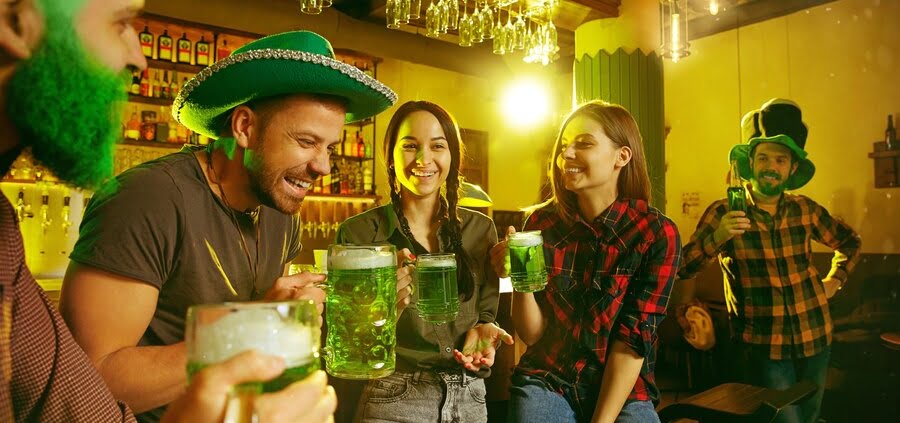 Those who go bar-hopping frequently have an in-depth understanding of the best bars in the city. From swinger clubs to sassy jazz clubs, galore options when looking for nightlife options in the 'City of Queens.'
Whether you like the old-school bars for a quaint affair or a premium bar that gives you access to exclusive services and offerings, there is plenty of options here. But when it comes to those special occasions like a birthday party or a bachelorette gig, it's best to trust a bar with a reputation for a bit of everything; ambiance, crowd, rage, quality of liquors, food, music, USPs, etc.
So if you want to avoid starting an argument within your group as to the best options to paint the town red tonight, follow through our carefully curated list of the 5 Best Bars in Toronto.
The list includes some of the most prestigious bars in some of the most happening locales around Toronto, although there are so many other fixtures that you can explore around town. We've listed the best bars in the city, their features, specialists, what you can expect, and our own review of the place.
Whether you want to go visit these bars alone or have a group of friends to have a blast, you can easily see these places and have a good time at these establishments. These bars are also an excellent opportunity to let yourself loose and forget about the stress, have a drink or two, and enjoy life to the fullest.
You can expect to find incredible drinks, services, live music, gastronomic delights, and a host of other stuff that'll keep you entertained long after the sun goes down. So without further adieu, let's check out the 5 Best Bars in Toronto.
Top 5 Bars in Toronto
For the 5 Best Bars in Toronto, read through this list. We've narrowed down the best possible options in descending order, starting with the 5th best bar in Toronto. We'll briefly describe each bar and what unique things they offer so that you can make an easy decision.
The parameters on which we've rated them are based on their reputation for drinks, cuisines, interior décor, and atmosphere.  Let's start with the following:
Bar Alo
With a multi-course menu and a lavish bar, Alobar is a cocktail bar-cum- a multi-cuisine restaurant offering some truly unique options. It serves raw foods like fish and chips with garnishments that are a true delight to the senses. Tucked in the Yorkville district of Toronto, this bar consists of notable chefs who have made a name for themselves due to the food and world-class wines being offered here.
The Victorian building where Alobar rests perfectly compliments their great variety of food. You can find rare wine bottles here and cocktails that are no less tantalizing to your taste buds.
Alobar is mostly busy, especially during the weekends. So it's wise to make reservations before heading to this charming Toronto bar.
Whoever thought that the bar named 'Paris Paris' won't be well-known for its wines? But the twist here is that Paris Paris is widely popular for much more than that.
Paris Paris is an iconic bar located at the vibrant Ossington Avenue, one of the most happening neighborhoods in Toronto. Paris Paris has a spacious dining hall with a comfy ambiance that is complete with wood, creative skylights, and tropical plants that invoke an invigorating sense within. The bar has various cuisines, from seasonal to contemporary foods, along with some great wines and cocktails.
You can also spend time on their patio, which overlooks the glittering Ossington strip.
The reason that makes BarChef rank high on this list is that the fixture has been the prime destination for cocktail connoisseurs in the city. Locals have long been heading into this bar for the delicious cocktails and the fabulous way they're presented to them.
The establishment has classic cocktails that you can sip in and spend hours at the bar. BarChef also hosts events with an elevated cocktail experience and offers cocktail catering, mixology workshops, and much more. Chef Frankie Solarik has truly curated a wonderful experience here with his authentic ambiance and unique BarChef cocktails.
Bar Raval offers a distinct experience from standard bars and pubs around Toronto with a captivating experience that's a treat for your eyes and taste buds. When the establishment hosts parties, its interior space comes alive with a unique kind of vibe that is best felt when you experience it live.
Nothing as Bar Raval will leave you with a sour taste from cocktails to beers and wines. The Barcelona-inspired Pintxo bar has a limited food menu, but its extensive drinks options more than make up for it. Visit Bar Raval for an exclusive experience in Toronto.
Look into all four directions, and you'll find a premium space full of lavish vibes and an elevated experience that no other bar in Toronto can offer. Barcode Saturdays, the premium party destination of Toronto, has also been the longest-running party in the city. An establishment that provides the best of everything, Barcode Saturdays is known for hosting ravishing celebrity parties every weekend and some of the wildest special events you'll ever witness in Toronto.
The bar offers various options for its VIP bottle services, granting you access to personal space for you and your gang. Enjoy premium drinks, house champagnes, and personalized services by reserving our bottle booth services.
Barcode Saturdays also offer free entry to ladies when they sign-up on our guestlist before 11:30 PM. Whilst at this bar, you can expect a glimpse of celebrities and stars from all over the country. Enjoy premium drinks, food, and services in a regal ambiance and a dash of Hip-hop, Trap, R&B, Top 40, Latin, and Reggae music every Saturday night at Barcode Saturdays.
Visit These Bars in Toronto for a Night to Remember
Whether you plan to choose a single bar for the night or aim to go bar crawling in Toronto, you're truly in for a memorable experience. All these bars are spread across town, so it's highly likely that you can find one of these watering holes close to your location.
So dress up, make the reservation, and hop in for a wonderful celebration in the 'City of Queens' with these 5 Best Bars in Toronto.