Ranking as one of the most multicultural cities in the world, Toronto offers a bountiful of experiences ranging from food, art, culture, and entertainment. The city prides itself on bustling nightlife, with a surfeit of bars, pubs, and discotheques offering nightly delights.
If you're in Toronto, there are numerous bars and nightclubs where you can spend a memorable evening. From attending luxurious nightclubs with live music to hitting a mixology bar, one can find great diversity in Toronto's nightlife scene. The city offers innumerable escapades after the sun goes down, and you're spoilt for choice here.
If you're looking for the best bars in Toronto, here's our roundup of the best nightlife spots in the city that cater to a wide range of tastes. Here are the top 20 Toronto bars that'll really make your Saturday night out awesome and memorable:
1. Barcode Saturdays
Barcode Saturdays is a premium nightclub situated in NEST Toronto. Established in 2014, the nightclub has set the standard for party entertainment in the city for Torontonians and tourists alike. The number 1 party ritual in Toronto creates a high-quality urban sound experience along with lip-smacking drinks and delectable food.
Barcode Saturdays have an extensive menu range from the bar including wine, beers, and cocktails. The club is also the trendsetter in the city with electrifying annual parties. Head to Barcode Saturdays if a luxury nightclub with the best of everything is your thing.
Visit Toronto's number one party ritual at 423, College Street.
2. Paris Paris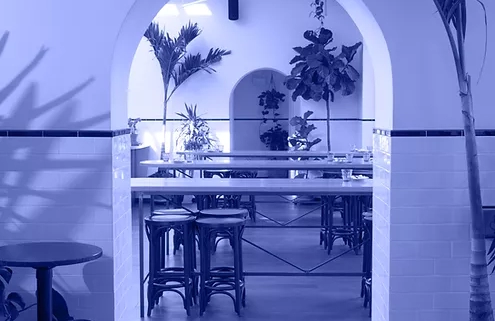 Paris Paris is a wine bar that is packed from noon to midnight. Furnished with a wood-styled decor and great ambiance freshens you up when you visit the bar.
The wine list and tasty food make all the wait or smooshing into the bar worthwhile. If you are one of the foodies or wine lovers you must visit Paris Paris which is located at 146 Ossington Ave.
3. Paradise Grapevine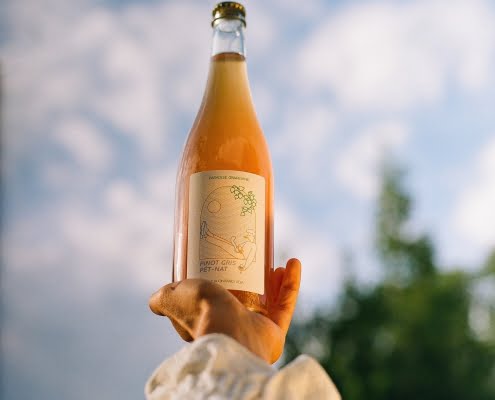 From producing its wine to providing a selected outsourced wine menu, it truly has become a wine lovers' paradise. The bar also has a big outside garden which is more suited for bigger parties or huge crowds. The visitors can also get to witness the making of wine in the garden during harvest season. Dreams come true for wine lovers.
You must visit Paradise Grapevine as it offers wine from producers all over the world and gets small ciders that will complement your wine.
The bar is located at 841 Bloor St W.
4. Sweaty Betty's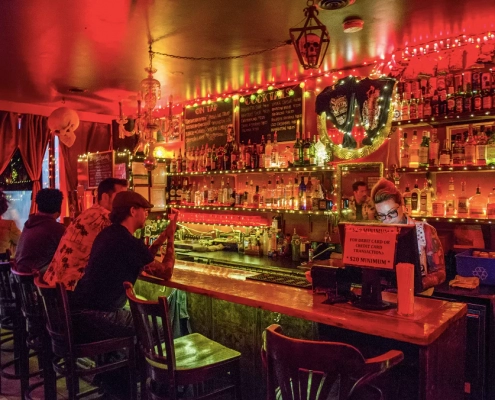 Sweaty Betty's a dimly lit dive bar that's been in the nightlife scene for decades now. You can hop on this bar, which is conveniently located between Ossington Avenue and Queen West. Sweaty Betty's has an out-and-out selection of whiskey, beers, and amazing cocktails that'll add a tinge to your celebrations.
Head to this bar for a casual meeting and grab a quick drink without burning a hole in your pockets. That being said, Sweaty Betty's is also a great place to chill with its eclectic sense of mismatched furniture and a heated and covered patio.
5. Farside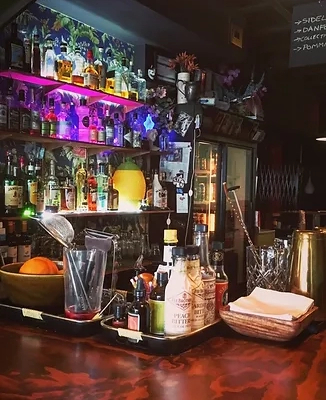 If you are looking forward to visiting a quirky bar, FarSide is your choice. They have a very colorful interior and mismatched furniture which will make you like it even more. You can find a variety of drinks available to you from domestic beers to amazing cocktails, you're bound to find the drink of your choice.
With a limited food menu, the range of beers and house-crafted cocktails will make you wanna stay a little bit longer. It hosts events like DJs on Friday and Saturday nights, Trivia Clubs, and VHS movie nights, to engage with the community. It is located at 600 Gerrard St. E.
6. Bar Poet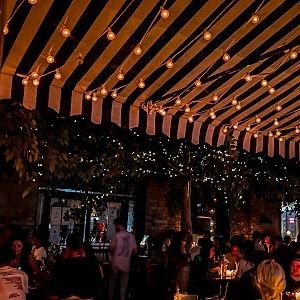 A reasonably priced dining experience that won't make you feel like getting ripped off at Bar Poet. With a dimly lit ambiance, which may give you a false impression of being seated outside. They are highly known for the range, style, and taste of the pizzas, so don't forget to order one as soon as you enter.
Cocktails ranging from $6.75 to $15 are impressively creative without being too far-fetched in pricing. They also have varieties of beer on the menu alongside craft beers available on tap. They have a special and ever-changing wine menu as well. In short, you will find the drink of your choice and liking. Visit Bar Poet at 1090 QUEEN ST. W.
7. Communist's Daughter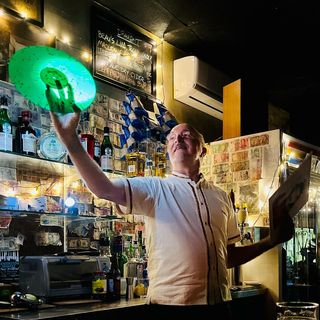 Lovingly called 'commies' by the locals, this neighborhood bar opened in 2003 amidst local stores and standard sports bars. To attract a youthful crowd, the place has been successful in retaining its essence while meeting its vision of being a sought-after place, especially during the weekends.
The bar has a homely feeling with close seating packed in a tiny hallway, meaning that you can personally interact with the people around you. And the best thing about this place is surely the jukebox and a record-playing machine that lets you play the music of your choice. In terms of the bar menu, Communist's Daughter is a humble place where you can relax and find liquors that are most commonly found in traditional bars.
8. The Dive Shop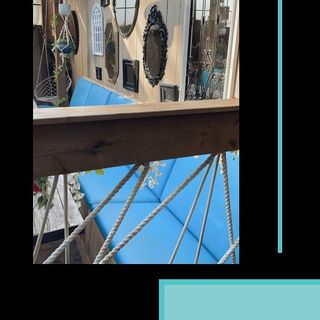 If you're looking for a fun night out with your friends or a love interest, head to Leslieville to the Dive Shop, where a bouquet of entertainment awaits you. The Dive Shop has awesome island vibes with indoor palm trees, swings, and sand at its backdoor patio.
But what truly sets this joint apart is the fantastic range of drinks that'll electrify your night. Open until 2 am, The Dive Shop is your staple fixture when you want to relax or catch up with an old bud after work.
9. Storm Crow Manor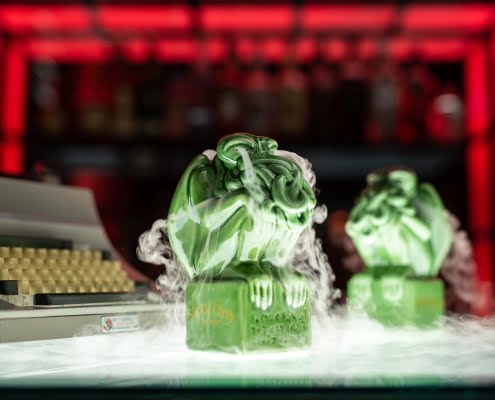 Are you one of those Star Wars fans or a comic book reader? If yes, then Storm Crow Manor is the perfect choice for you. It is a nerdy bar that will cater to Fantasy, Sci-Fi, or comic book lovers of all kinds. From decor to the drinks on the menu, it is straight out of your favorite movie. This bar is worth the experience
At Storm Crow Manor, you will get a wide range of bizarre sci-fi cocktails, options of gluten-free and vegan food, and craft beers and to top it off they have nerd merch just for you.
The Storm Crow Manor is located at 580 Church Street.
10. Shameful  Tiki Room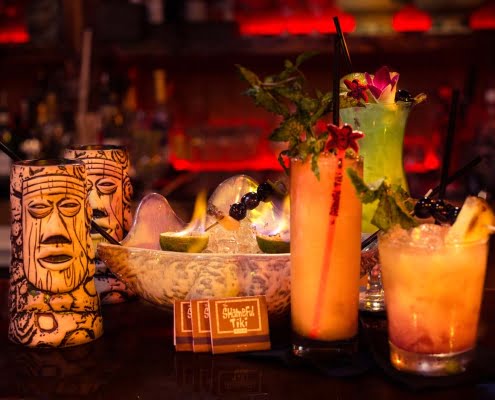 The Shameful Tiki Room is a super bar with a vintage feel that'll surely feel like you've entered a different realm altogether. The Shameful Tiki has an exotic cocktail menu along with delectable cuisines that'll get your juices flowing.
The decor of the Shameful Tiki Room is no less impressive with carved wooden masks and cane furniture. Head here with your gang and keep guessing the ingredients of almost anything you order here.
Visit the Shameful Tiki Room at 1378 Queen Street West.
11. Mahjong Bar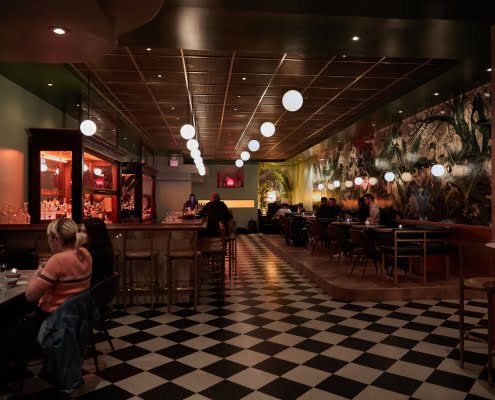 Hidden behind pink neon lighting above the door which almost looks like a convenience store, is Mahjong Bar, one of the coolest bars to visit in Toronto. The Bar is made with inspiration taken from the Cantonese Game of Mahjong.
Have a drink at Mahjong and it will give you the vibe of being in a secret club. The drink menu contains 10 taps of Beers and ciders, selected wines, and a lip-smacking cocktail menu. You will find a comprehensive food menu that will fulfill any palette.
Visit Mahjong Bar at 1276 Dundas Street West.
12. Bar Raval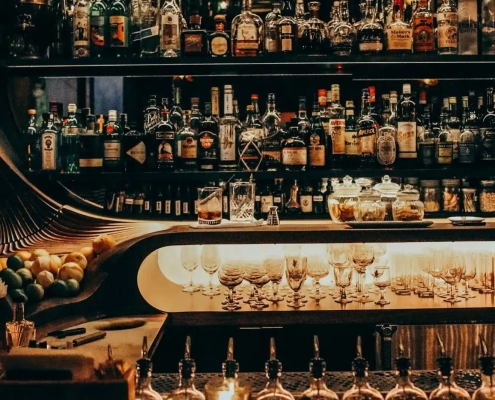 With a state-of-the-art wooden panel finished interior with bottles peeking out of the ceiling, Bar Raval stands out for its Spanish-inspired bar style. The bar follows a first come first serve basis as it does not accept any reservations, so don't forget to reach a little early.
You get a unique experience at this Spanish-style bar, after all, you will be teleporting to Barcelona without leaving Toronto. Grab the nearest Barrel to the bar, lean on and have the amazingly made cocktails with sides that will compliment your drink. The food and drinks menu is designed in a manner to complement each other.
Visit Bar Raval at 505 COLLEGE ST.
13. Cocktail Bar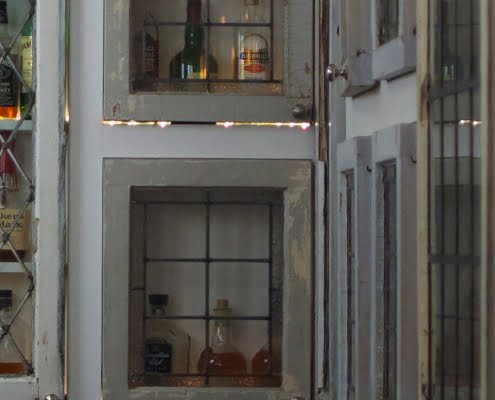 The art of making a perfect cocktail is hard to find even in top-of-the-line bars, but that's not the case at Cocktail Bar, they take their cocktail making very seriously. The bar has an inviting and well-spirited atmosphere and offers a good range of food and beverages.
The bar is stocked with high-end wines, rums, whiskey, and beers, but not trying their cocktails is a big miss. It is the perfect place to have a nice laid-back evening after a hectic day at work or to just chill out with friends.
Visit Cocktail Bar at 923 DUNDAS STREET WEST TORONTO ON M6J 1W3.
14. Birreria Volo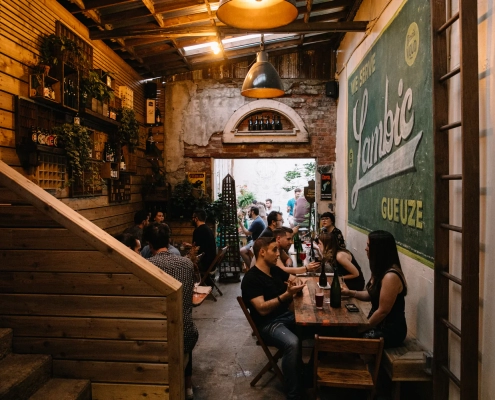 If you are a Beer lover, then you have to try out Birreria Volo at this Little Italy Spot. At Birreria Volo, beer is served in wine glasses to encourage people to sip their beers rather than chugging them down.
You can find a wide variety of Beer at the bar, with 26 taps available which keep rotating. You will find funkier brews like wild yeast beers, sours, and lambics which are focused more.
Visit Birreria Volo at 612 College St.
15. Bar Alo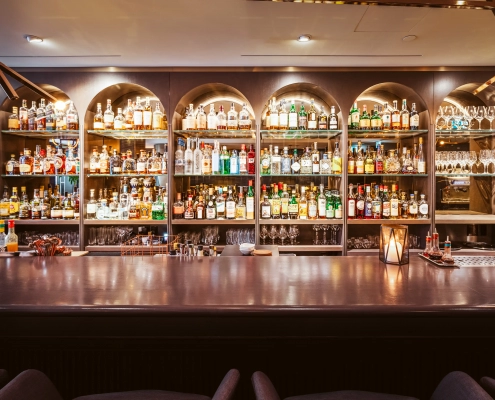 A concise bar with an utterly relaxed ambiance and signature cocktails, that's what sets Bar Alo apart and makes it awesome. Its à la carte menu is complete with seafood, vegan-based sides, desserts, and meat entrees. However, it's their bar menu that'll make you swoon over.
Bar Alo has classically infused wines and cocktails that are added with nectarean flavors and spirits. For a more exclusive experience, you can dine at their private dining salon and enjoy scrumptious offerings.
Visit Bar Alo at 163 Spadina Avenue.
16. Mother Cocktail Bar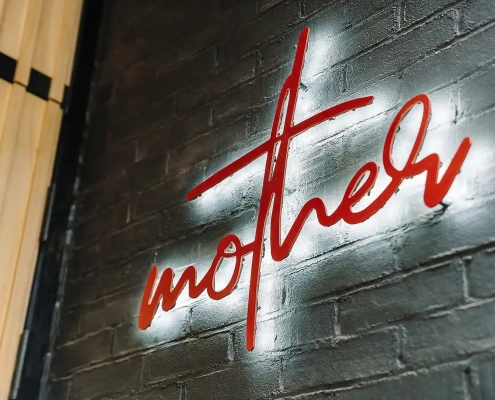 Opened to take Canadian cocktail scenes to the next level, Mother Cocktail Bar adds to the flavor with its fermentation process.
The perfect blend of delicious food and full of flavor Cocktails, Mother Cocktail Bar has set some high standards. If you are looking for a place to have good drinks and food, this cocktail bar is your choice.
Visit Mother Cocktail Bar at 874 Queen St W.
17. The Cloak Bar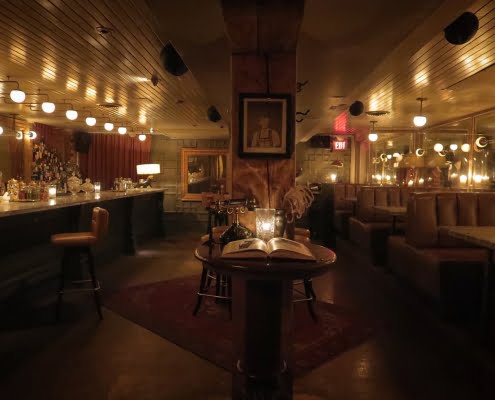 The Cloak Bar is your classic, speakeasy bar with delightful cocktails and food cuisines. You can find floral-inspired flavors to compliment your drinks which are great for celebrating special occasions such as birthday parties, office parties, etc.
There's an intimacy and sophistication to The Cloak Bar which will inebriate your senses the moment you walk in. Save this place for the big occasion.
Visit The Cloak Bar at 488, Wellington Street West.
18. Cry Baby Gallery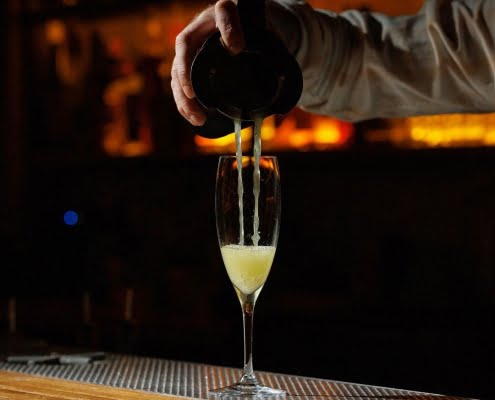 With the entrance of an art gallery, you'll fail to see the bar hidden past the white gallery. Cry Baby Gallery bar is hidden behind a black curtain which is visible once you go past the white gallery.
The art has made its way into the secret bar, with reflective wallpapers to hide people's reflection and bathrooms which is covered in art by an artist. The cocktails are pricey but worth the money and oysters are a must-have.
Visit Cry Baby Gallery at 1468 Dundas St W.
19. Bar Chef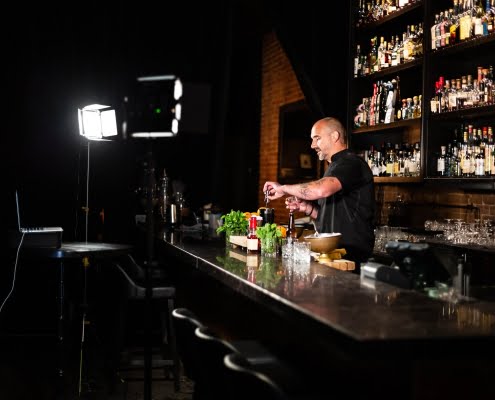 Frankie Solarik created a new and unique cocktail culture that a person couldn't even imagine. This new culture gave rise to BarChef. It's not just the drinks that show creativity but the overall presentation brings the cocktails to life.
Don't be shocked if your drink comes up to the table with a spoon in it, sometimes it is meant to be eaten. BarChef is an expensive bar but the experience is worth the price.
Visit BarChef at 472 Queen St. W.
20. Clockwork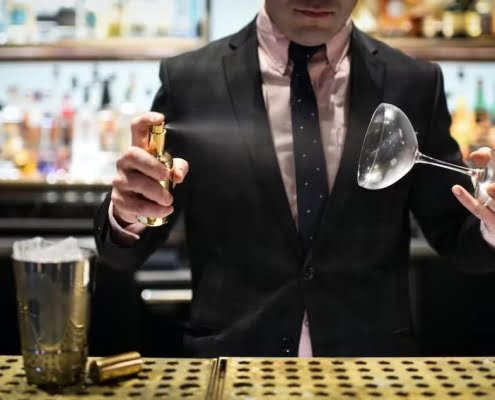 If you are looking to have a peaceful drink in a luxurious high-class environment, then you should check out Clockwork. The director of beverage has tremendous knowledge about cocktails and would love to talk to you about them as well. If there is something he doesn't know about cocktails then it probably isn't worth knowing.
The cocktails served are elegant looking and having a drink at Clockwork will give you high-society member vibes. The price of the entrance at Clockwork is worth the spend.
Visit Clockwork at 100 Front St W.
Wrapping Up
Cocktails and Wine are loved by the people of Toronto. If you are one of those visitors who love to chill at the bar and have nice cocktails or wine, then you should set your itinerary quickly and make sure to visit as many bars as possible.
Barcode Saturdays is a must-visit. Choose a VIP Bottle Service to get the best of the experience and get the opportunity to party like a celebrity.