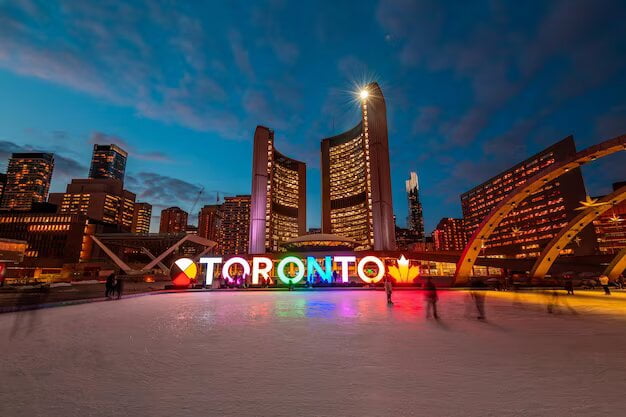 Best Things To Do In Toronto This Weekend – August 2023
Looking for a top-notch plan for your weekend in Toronto? This August, Toronto's vibrant city life has a plethora of exhilarating events to offer; there is an exhaustive variety of city life options, from lively clubs to intimate lounges.
Toronto's nightlife is likewise an absolute must for anybody visiting the city, thanks to its electric atmosphere & lively throng. This weekend is perfect for exploring the city's thriving club scene- Get ready to have a blast!
Leading Nightlife Hotspots In Toronto
There are innumerable awesome spots to check out in Toronto's nightlife. Visit the legendary Barcode Saturdays & Rebel nightclub for an exciting dance floor & DJs on the cutting edge of their craft. BarChef is a trendy cocktail lounge where you can enjoy a more private & upscale experience.
Are you enamored with looking down from above? Lavelle is the only place to go if you want to dance outside while taking in stunning views of the city. There are many more exciting places to check out in Toronto after dark, but these are some of the most known. Toronto's nightlife is varied & exciting, so be ready to let loose.
Late-Night Eats In Toronto
Toronto's nightlife is legendary, & after a night of dancing & drinking, you'll need something to keep you going. Thankfully, there are plenty of restaurants open late in the city to satisfy any need. You may find everything from fast food joints – gourmet mobile kitchens.
Stop by Smoke's Poutinerie for some authentic poutine, or swing by King Shawarma for a flavorful shawarma wrap. If you're in the mood for something sweet, don't pass up a trip to Glory Hole Doughnuts. Toronto's restaurants open late & provide an extensive assortment of cuisines to meet the needs of its patrons. Happy eating!
Party Tips From Toronto Experts
Are you planning on making the most of your time in Toronto? Buckle up for a night out in Toronto that'll leave you begging for more! We've got the real inside scoop on Toronto's hottest party secrets that'll make your head spin. Get ready to create memories that'll stick with you like glitter on a dance floor.
Put on your best outfit first! The fashionable people who frequent Toronto's nightlife will appreciate your efforts to look your best. Second, get there early to avoid waiting in line, & to pick out a decent viewing area. Don't go off looking for a quiet spot or the greatest dancing floor.
Finally, put your inhibitions aside & go out & meet new people. Partygoers in Toronto are open & sociable, so take advantage of the chance to meet new people who share your interests. Keeping these genuine suggestions in mind will ensure that you have a fantastic time in the party capital of Canada, Toronto.
Raving Without Breaking The Bank
Want a terrific night out in Toronto but don't want to break the bank doing it? Don't fret; we've got your back. When it comes to affordable nightlife, the city does not disappoint. If you're really looking for a place to go that won't break the bank, consider looking into some of the smaller, local establishments first.
Keep an eye out for the drink promotions offered at many pubs & clubs. One last piece of advice is to check ahead of time for cheap tickets to events & parties. If you plan ahead & use your wits, you may have a fantastic time in Toronto's nightlife without spending a fortune.
The Best Drinks In Toronto Clubs
You won't be let down by Toronto's bar scene if you're looking for a good drink. There is a wide variety of drinks available to suit any preference in Toronto's vibrant nightlife scene. There is a club in Toronto for everyone, whether they like traditional drinks or are open to trying something new.
All of the martinis & other cocktails are made with precision & care by the talented bartenders here. When you're ready to take a break from the dance floor, you can enjoy some of Toronto's finest cocktails at the bar. Let's raise a glass to a memorable evening!
Dancing Till Dawn: Toronto's All-Night Party Scene
Feel the electric excitement of Toronto's late-night club scene as the city awakens. There is a wide variety of places to party in Toronto till the wee hours of the morning, from subterranean warehouse parties to premium club events.
As you move to the music, you'll be surrounded by throbbing sounds, flashing lights, & a sea of passionate partygoers. There's a dance party for any music preference, whether you like techno, house, hip-hop, or something else entirely. Put on your dancing shoes, loosen up, & enjoy the buzzing energy of a Toronto nightclub.
Summing Up!
As the weekend winds down, we honestly hope you had a blast experiencing Toronto's exciting city life. Everything you need to know about the best places to go out & how to have fun has been covered. Toronto's nightlife is diverse & exciting, whether you're looking to party in a high-energy club or relax with a glass in a chic bar.
Stay up all night, drink the greatest cocktails, & enjoy the city's electric environment till we meet again. You'll never forget the exceptional time you had in Toronto. Here's to numerous superb urban weekend getaways!