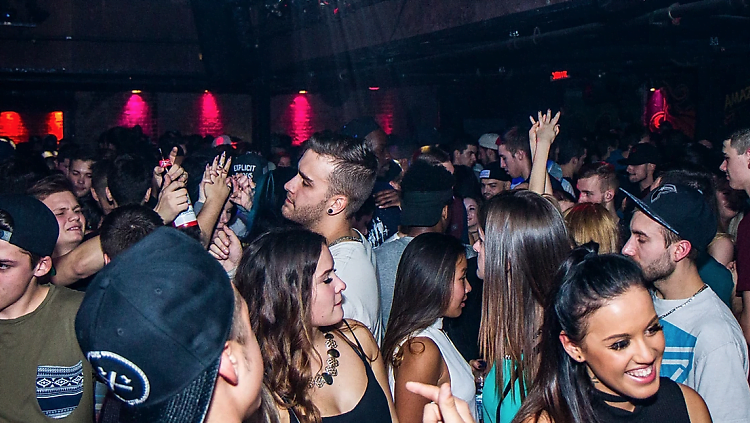 What's The Clubbing Age In Canada?
Are you looking to have a night out & explore the Toronto club scene? Want to know whether you're too young to go partying in Canada? The minimum age for entering a nightclub varies widely from one jurisdiction to the next.
Nightclub entry age limits in Canada vary from 18 to 19 years old, depending on the province or territory. While this might make it tough for young people to locate where to party, Canada is nonetheless home to a plethora of exciting nightlife options.
Canada Nightclub Party Scene
The nightlife culture in Canada is exciting & varied, providing clubgoers with a vast selection of options. This vibrant environment has something for everyone, from hip cafes to pulsating nightclubs.
There is a club out there for every kind of music fan, whether you like electronic beats, hip-hop, or live performances.
An energetic audience & skilled DJs have created an electrifying party environment. Canada's club scene is known for its vibrant crowds & exciting atmosphere, making for a fantastic night for party animals.
Legal Age For Clubbing In Canada
In Canada, the minimum age to enter a nightclub varies by province & territory. In most cases, you need to be at least 18 or 19 years old to enter. It's smart to brush up on the laws of the land before going out on the town.
Toronto's bustling club scene is accessible to people of all ages, but due to age restrictions, it may be difficult for young adults to locate clubs to attend.
Everyone can find their ideal night out, from hip cafes to pulsating nightclubs. If you want to enter the party without any hassles, verify the age limit & carry proper identification.
Most Popular Nightclub In Canada
Barcode Saturdays stands out among Canada's many other nightclubs as a top choice for partygoers. This trendy Toronto club is known for its vibrant & exciting crowd. Barcode Saturdays is the place to go for revelers looking for an incredible evening of fun & excitement.
Barcode Saturdays promises an unparalleled experience with its cutting-edge audio plus visual equipment & skilled DJs playing today's most popular hits. The nightlife is alive & well since the dance floor is constantly full of energetic people. Barcode Saturdays has something for everyone's musical preferences, whether you like electronic music, hip-hop, or a mashup of the two.
The club's contemporary aesthetic contributes to its attractiveness by generating an air of refined elegance. Barcode Saturdays has everything you need for a night of indulgence & excitement, from VIP booths to an expansive dance floor. No surprise, people all across Canada have made this club their regular haunt.
Look no farther than Barcode Saturdays if you're in search of a trendy club in Canada where you're sure to have a fantastic time. The greatest of Canada's nightlife awaits you, so be ready to dance the night away & create some incredible memories. Any clubgoer worth their salt knows that Barcode Saturdays will leave them wanting more.
Party Scene Beyond Nightclubs In Canada
Are you bored with the standard club scene & looking for something new to try? Canada has a wide variety of non-club social gathering places. From themed events & immersive experiences to underground raves as well as warehouse parties, there's something for everyone seeking a distinctive & adventurous night out.
Crowds at unconventional events are often more receptive & adventurous, creating an exciting plus one-of-a-kind atmosphere. Canada's alternative nightlife offers a wide variety of experiences, from art installations & live performances to immersive themed parties.
Club Etiquette & Dress Codes
When it actually comes to dressing for a night out at a nightclub in Canada, it's crucial to keep in mind the specific dress codes & etiquette that are commonly observed. While the dress rules of certain nightclubs may differ, in general, it's best to look your best & avoid wearing anything too casual.
Men often wear collared shirts, tailored pants, & dress shoes, while ladies may pick from a variety of fashionable dress options or skirts & blouses with heels. It's also crucial to respect the club's regulations & the people who work there & frequent the venue. Keep in mind that your time at the nightclub will be much improved if you make an effort to look well & act appropriately.
Safety Concerns & Precautions To Take
The Toronto club scene can be fun, but only if you remember to put safety first & follow some basic measures. First & foremost, it's a good idea to always travel in a group or with a group of people you can rely on. Always be aware of your whereabouts & trust your gut.
Never take a drink from an unfamiliar person, & always keep an eye on your own drinks. To go home safely, it's likewise a good idea to arrange a sober driver or other means of transportation in advance. If you take these safety tips & measures carefully, you can enjoy a night out in Toronto's exciting club scene without fear.
Exploring Canada's Alternative Nightlife
Explore Canada's nightlife outside the conventional club scene. Canada's alternative party culture has something for anybody wishing to spice things up, from subterranean raves to immersive themed events. Explore art exhibits, watch captivating performances, & get lost in the mood of a costume party.
The audience at these alternative events is always interesting & full of life, making for an unforgettable experience. Try something different & unique by checking out Canada's underground club scene.
Summing Up!
Different provinces & territories in Canada have different legal clubbing ages, ranging from 18 to 19. Toronto's nightlife is thriving & diversified despite these age limits. Nightlife venues range from trendy cafés to exciting nightclubs.
If you want to enter the club easily & have a good time while you're there, it's a good idea to brush up on the local regulations, dress appropriately, & follow club rules.
If you're looking for a night out that's a little different from the typical club scene, look no further than Canada's alternative party scenes. Get ready for an unforgettable experience as you explore Canada's thriving nightlife!