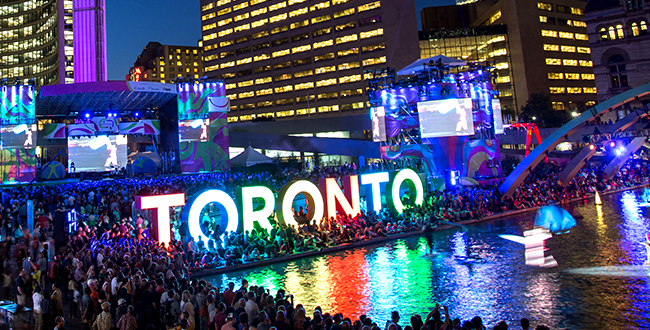 It's a common belief that New York City is the most eventful place on the planet. From the cosmopolitan bustle of Wall Street to the fantastic shows on Broadway, the city is home to various events every day throughout the year.
But those who have visited Toronto would have a different tale to tell. One of the most multicultural cities in the world, Toronto is rightly called the heart of Canada. It's the center of art, economics, business, theaters, culture, nightlife, and entertainment in the country. As such, you can literally walk into any neighborhood at any time of the year and find a live music show or an art exhibition being held there. That's what Toronto offers; something for everyone.
The city boasts countless events through its length and breadth, from the prestigious Toronto Film Festival to the thrill of the Toronto Caribana Carnival. And with such a flurry of events, there's no need to be a planner here, and you can go spontaneous on those plans.
The city is also excited about some massive events in 2023, ranging from local open mic events to the massive Caribana Carnival. So roll up your sleeves and know about the topmost events taking place in the city this year:
2023 Canadian International Auto Show
Where else can you find Porsche, Subaru, Koenigsegg, Lamborghini, and other major car makers in one place? The 2023 Canadian International Auto Show, of course.
Marking its 50th edition, the prestigious auto show will be held from February 16, 2023, to February 27, 2023. The show will feature multiple exhibitions, including a demonstration of net zero concept cars, the auto exotica exhibition where the leading car makers let you access their tech and luxury, along with the much-awaited main event where Cobble Beach Classics will celebrate 75 years of Porsche with an exhibit of 16 iconic Porsche models in the carmaker's history.
Date: February 16, 2023, to February 27, 2023
Location: Metro Toronto Convention Center
Depeche Mode Memento Mori Tour
Don't miss one of the most successful electronic music bands in action at the Scotiabank Arena on April 7. After being inactive for more than five years, the band is touring extensively to promote their upcoming album Memento Mori, which is due to be released next year. Watch new and decades-old hits by Depeche Mode with the baritone voice of Dave Gahan and a new lineup of the band.
Date: April 7, 2023
Location: Scotiabank Arena
The Victorious Festival 2023
After being canceled last year, the Victorious Festivals return to the cities of Toronto and Calgary this year. The Toronto edition will be held on June 10 at the Coca-Cola Coliseum from 6:00 PM onwards. The festival is an opportunity for everyone to enjoy fabulous live entertainment and music performances at the heart of downtown Toronto. The lineup for the event includes Lecrae, Chris Tomlin, Flame, and many other upcoming artists.
Date: June 10
Location:  Coca-Cola Coliseum
The soulful stewart returns to Toronto to perform as part of his + – = ÷ × tour. Get ready to be swept away by the melodic maestro as he takes you to dreamland with his electric guitar, loop pedal, and remarkable voice.
The much-awaited and high-demand event will be held at the Rogers Center on 17 and 18 June 2023. Celebrate the weekend with a dose of Ed Sheeran, joined by special guests Khalid and Rosa Linn, as they sweep you away to a melodic dreamland.
Date: 17 & 18 June 2023
Location: Rogers Center
The Wine Fest Toronto is for wine connoisseurs who like to celebrate the city's unique wine culture and taste all varieties of wine from around the world. The festival has a culture of 'all you can taste,' and it literally means everything from the classic red and white wines to Rose and sparkling wine. You can also enjoy food service at the largest patio in the city at the Wine Fest Toronto.
Date: 7-9 July 2023
Location: Rendezviews
A unique Latin-themed street celebration awaits at St. Clair Ave W this summer. Torontonians can have their hands full at this Latin festival, where there are lots of opportunities to eat, watch live entertainment, and dance without a flicker of worry on the streets. The weekend event is the premier Salsa party in Canada that celebrates authentic Latin food, music, and a fabulous fiesta.
Date: 8-9 July 2023
Location: St. Clair Ave West
Toronto's Festival of Beer
Toronto's favorite beer fest is back with a bang in 2023. The open-day event will again be held at Bandshell Park, but this year things are about to get bigger than ever as stalwarts of the music industry take the stage. Don't miss the largest beer festival in the country, where more than 40,000 people attended the event last year to get a taste of Canada's rich brewing history and over 400 global brands.
Date: 28-30 July 2023
Location: Bandshell Park, Exhibition Place
Toronto Caribbean Carnival
The festival every Torontonian waits for. The Toronto Caribbean Carnival is a street celebration of Caribbean culture, food, and music. With its 56th edition due to take place this year, expect millions of tourists to flock to Toronto during the month-long celebration that culminates into a three-day event featuring live music shows, soca and steelpan events, and of course, the Grand Parade that's due at The Exhibition Place and Lakeshore Boulevard.
Date: 3-7 August 2023
Location: Toronto
Once you've attended the Grand Parade on the carnival weekend, it's time for a grand after-party at Barcode Saturdays. We host our annual Caribana party during the carnival weekend with an eclectic blend of Soca music and chart bursting Hip-Hop tracks. Enjoy premium champagnes, cocktails, and food, and indulge in a joyous frenzy with the Caribana-crazy crowd at Barcode Saturdays.
Electronic music lovers have yet another amazing experience in store as the bigger electronic festival comes back to mesmerize Toronto in August. Be part of the festival that celebrates electronic and Hip-hop music with a sizzling lineup featuring Above & Beyond, Don Diablo, Tiesto, deadmau5, and many other prominent electronic DJs and bands. Don't miss this event; tickets are already out live.
Date: 4-6 August 2023
Location: Downside Park
The Toronto International Film Festival is back in the city with its 48th edition and is due to be a wildfire event that celebrates Canadian and international cinema. The festival holds some of the most renowned Canadian and international movies ever made with 11 days of non-stop cinema which is attended by filmmakers, film stars, media, and movie lovers.
Date: 9-18 September 2023
Location: TIFF Bell Lightbox
Go Full-Gear into 2023
For those who love an occasion to party and celebrate, 2023 and Toronto seem the ideal match. It's nothing short of phenomenal being in the world's most happening city with such an extensive and varied lineup of events and experiences.
And while you're basking it all in, visit Barcode Saturdays every weekend and be part of Toronto's number one party ritual. Enjoy a lavish clubbing experience every Saturday night at Barcode Saturdays.