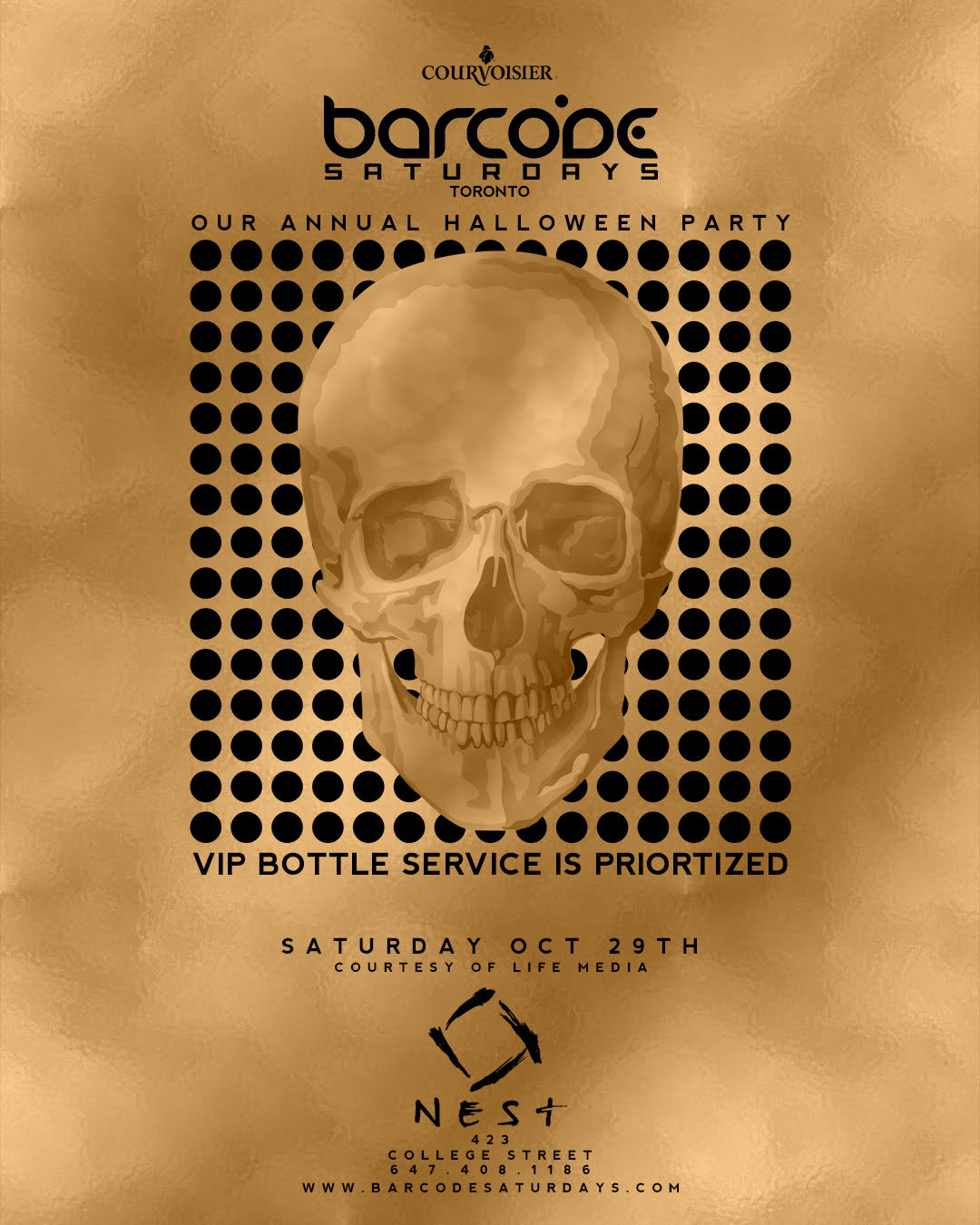 Our Annual Halloween Party
Get Ready To Scream & Dance The Night Away At Our Annual Halloween Party!
If you love Halloween and love clubbing, you don't want to miss our special Halloween Party! Come to Barcode Saturdays and party until 3 am with the best music and coolest people in town! Barcode Saturdays present the Official Annual Halloween Party at Nest Nightclub! Get ready to scream and dance the night away with some of Toronto's best EDM DJs, Live Performances, & Live Visuals!
The club will host an amazing Halloween party that will keep you screaming and dancing until the party ends. It's going to be among the most popular parties this year, so if you want to come, you better get your reservations quick before they sell out! With both general admission and VIP booths available, anyone can attend this costume-friendly dance party. Get your reservations here before they sell out!

Get Your Spook On This Halloween At Barcode Saturdays!
The month of October brings an abundance of spooky and fun festivities, which are all guaranteed to get you in a great mood for this year's spookiest night of the year – Halloween! Luckily, Barcode Saturdays will help you celebrate all month long with our lineup of carefully-selected DJs who'll keep your body moving and your spirits high at our annual Halloween party.
Don't miss out on one of Toronto's wildest parties. This year, we have some genuine surprises in store for you. There will be goodies galore and games to keep things lively. Dress up or dress down – it doesn't matter as long as you're ready to get your party on with us this Saturday. Remember, bring your most devilish costume & we'll have a costume contest with prizes, including a VIP bottle service package.
In The VIP Section, you'll be provided with complimentary amenities such as some of Toronto's most exclusive drinks, premium bottle service from our elite list of wine & spirits, and a cozy private seating area. These are actually just some of many things that make up The VIP Experience. The staff's attention to detail is impeccable, so you can expect an unforgettable experience at our Halloween party.
There's no need to stress about a thing because we've got it all covered – the perfect mix of music and lights, plus a lively party atmosphere where anything goes! Whether you're coming solo or bringing friends along for the ride, there's something for everyone at this one-of-a-kind event, so don't miss out on this once-in-a-lifetime opportunity.
Make Your Halloween Party A Great Night To Remember!
Wear your creepiest costumes, make a beeline for what you're sure will be an epic dance floor, and make it a point to show up early. We've got the perfect events to keep you busy – our Halloween Party at Barcode Saturdays! Join us at Barcode as we transform the space into a scary nightclub, complete with festive décor, live music & of course, many creepy costumes!
Don't miss out on this one-of a-kind event, so be sure to arrive early and enjoy some drinks from our VIP bar while you listen to your favorite tunes. Just really make sure to bring your dancing shoes – you won't want to miss this incredible experience! This year, we're bringing you some of Toronto's best DJs spinning up high-energy tunes all night long – there won't be a chance for anyone in attendance to sit still.
Dress up & get into the spooky spirit with drinks & special shots; just beware of any tricks or treats that might cross your path on this most festive day. If you're not already decked out in costume, don't worry! We'll have masks available so that everyone can get in on the fun. Costumes are encouraged, but if you don't want to dress up, no worries – come as you are.
Ladies always party for free & get a complimentary bottle of CHAMPAGNE when they come before 11 pm, courtesy of Life Media Group. With our amazing DJ lineup, amazing staff members, endless party favors & great deals on drinks, we know this is going to be one of the craziest nights yet! We really look forward to partying with you soon at Barcode on Saturday nights!